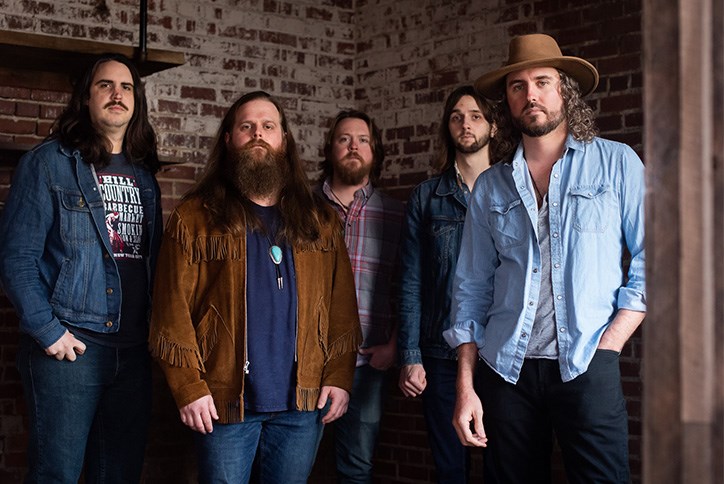 Inaugural Sounds on the Square - with The Vegabonds
A great band. Local food and drink. An easy, summer vibe. Sound good? We thought so, too. In fact, it sounds so good we decided to do it every Friday this summer! Introducing Sounds on the Square, a fabulously fun and family-friendly concert series in partnership with the Town of Summerville.
First up on the roster: The Vegabonds. Let your hair down, shine up your dancing shoes, gather your friends and family, and join us at Nexton Square on June 21.
What you'll hear
Chances are you've not only heard of The Vegabonds, you can probably sing along to some of their songs. For more than 10 years, this band has been lighting up audiences with their unique sound. Described as "reminiscent of Tom Petty & The Heartbreakers mixed with the grit and twang of the Allman Brothers Band," The Vegabonds give their fans an authentic, talent-packed show. Their honest and earnest lyrics, combined with an accessible musical style, has launched them on three European tours and three (soon to be four) full-length albums.
The Vegabonds are fronted by lead vocalist and songwriter Daniel Allen, with Richard Forehand on lead guitar/vocals, Paul Bruens on bass, Beau Cooper on keys/vocals, and Bryan Harris on drums. And if you went to college in the southeast around 2009, from Ole Miss up to USC, you might have attended their shows – or you certainly know someone who did. The college circuit is where they first gained notoriety, bringing down the house in venues big and small. Their popularity grew by word-of-mouth, reaching the likes of Lynyrd Skynyrd, Gregg Allman, and Kidd Rock, all of whom they've opened shows for.
So what will the show be like? Whether you call them southern rock, country, or Americana, their good-time attitude is infectious. So we're expecting lots of toe tapping, dancing with your pals and neighbors, and plenty of big smiles. You'll be energized by Best I Can and swoon over American Eyes. And the show is family friendly, so we know your littles will love grooving to the tunes, too.
What to bring, and what to eat
Bring a chair or blanket to kick back on, but skip the cooler this time. We've invited out our friends from Sportsbook, a locally-loved sportsbar with better-than-sportsbar food that will soon call Nexton Square home. They'll be serving fresh, locally-sourced fare from their food truck for the concert, so you can get a taste of what's to come! Think: shrimp sourced just down the road at Shem Creek, house-made sauces and rubs, and veggies from farm right here in the Lowcountry.
We'll also have one of our favorite local food trucks on hand – Greekin' Out – in case your taste buds are craving a lamb pita or falafel with spicy tzatziki. Salads, spanakopita, and lots of healthful choices will be available, too.
And because it's not a celebration without something sweet, our pals from Wich Cream will also be on site. We love their classic take on the ice cream sandwich, made with high quality local ingredients. Flavors vary by the day, but we've got our fingers crossed for Strawberry Lavender,  Mint Chocolate Chip, and Fruity Pebbles 'wiches!
Stay tuned to Facebook, where we'll share up-to-the-minute details about the very first, very fabulous, Sounds on the Square. You don't want to miss it!
A few "thank yous"
Get your Instagram fingers ready (and tag @inspirenexton and #soundsonthesquare!) - presenting sponsor Home Telecom is providing complimentary Wi-fi for guests of Sounds on the Square with The Vegabonds. Thanks, friends!
We also have to give a shout out to the major sponsors of this show, including Coldwell Banker Residential Brokerage, Alta Brighton Park, McKenna Agency, Inc., and CPM Federal Credit Union - Summerville.