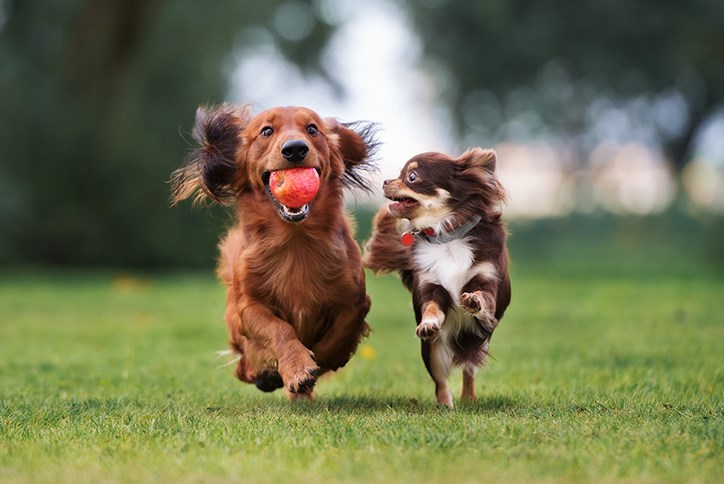 Home is where your pet is
Nothing beats coming home to a loyal companion after a long day of work, school, or just life in general. Studies have proven that roughly 68% of U.S households own pets, and that having one can make you happier and healthier. From decreasing stress to increasing daily exercise, pets have the ability to add on years to your life. Plus, few health-improving activities are as nice to snuggle up to on the sofa!
The Scooby to your Shaggy
Pets can be physically and mentally beneficial for all members of the family - from children to seniors. For the littles, having a family pet has been proven to improve social skills, teach responsibility, increase outdoor play, and even reduce their risk of developing common allergies.
For adults, the benefits of a fuzzy friend often make any extra clean up entirely worth it. Pets can reduce loneliness, keep you fit, and can even improve your mood. It's hard to scowl when your pup gives you a big, drooly smile.  
Did you know that over time pets help to lower cholesterol, fight depression, and help fight against heart disease and strokes? That's why pets are particularly perfect for seniors. Here's a taste of the science: interacting with your pet produces a chemical reaction in your brain that lowers cortisol and releases serotonin (the feel-good hormone), ultimately resulting in a decrease in stress levels, heart rate, and blood pressure.
Happy, healthy, and more social. We owe our little friends SO much!
Nexton thinks paw-sitively about your pet
Wander through one weekend and you'll see dog breeds of all kinds strolling around Nexton (no restrictions here!), so your fuzzy pal is bound to meet other equally fuzzy pals to romp around with. All of our neighborhoods include enough space for your ever-energetic friends to walk, run, and play fetch. From safe sidewalks to paths and trails, there's plenty of space for you both to get in those miles.
There's also plenty of dog-centric services nearby. We're just 10 minutes from pet-necessities like Petco and PetSmart, and Sangaree Animal Hospital is only minutes away from Nexton, with five additional veterinarians within a 10-minute drive. The community is also equipped with plenty of independent pet stores that include groomers, trainers, doggy daycares, and more. So keeping Fido fluffy and Tiger in tip-top shape is always convenient.
Who let the dogs out? Nexton did!
Looking to have a dog-gone good time? Well, look no further. The grand opening of Nexton's new dog park is happening June 1st. That's this weekend! We're celebrating with a trail walk (for National Trails Day!) and plenty tasty treats. Let your pet cool off with a scoop of ice cream, or chow down on a delicious cookie courtesy of Woofgang Bakery. Other treats & activities include: caricatures (yes, really!), frisbee, Nexton bandanas, and more!
Don't own a pet? We've got you covered! Come out and meet your furry soulmate. Dorchester Paws will be there with plenty of loving pets looking for a good home.
Tails and Trails is a free event, so come on out and enjoy an afternoon with your pets. RSVP here so we know to expect you. It's going to be pawesome.