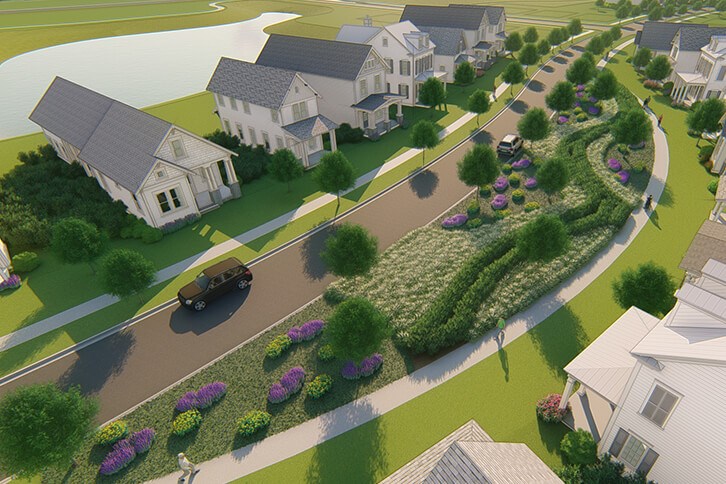 Midtown Nexton: A Park Paradise
What is it about waterways that compels us so intensely? Where there's a bubbling brook, a peaceful pond, a lively lake, you'll find people (and creatures of all kinds) flocking to it. Water is special. It's the difference between picnicking in a park and picnicking in a park next to a lake.
The Blueway, the first district in Midtown Nexton, is soon to be the latest sun-sparkled waterway where you'll find neighbors (and heron, egrets, and ducks) gathering. Midtown's first district is named after a network of canals, or Blueways, that will bring a magical stress-relieving presence of water right into your daily routine. And among them, a paradise of parks as unique as the people who will soon rest, relax, and roll (see: Ripple Park) in them.
Below, we peek into the park-full future of the Blueway District!
SHORE PARK
Petite but mighty, Shore Park is among the first sights as you enter the Blueway District, and it makes a splash. A flowery, blooming splash! This pocket park will feature rolling blue and white flowering plantings that mimic waves of the ocean.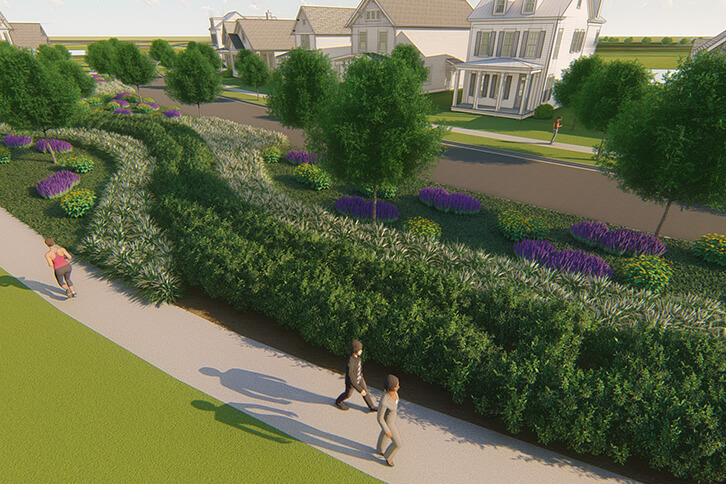 WAVES PARK
The "waves" (aka water-like plantings) get a little larger here, where a mix of native plants will reflect the crashing of waves on the shore.  Add a cool spring breeze flowing through tall, undulating grasses and you might just think you've been transported to Sullivan's Island.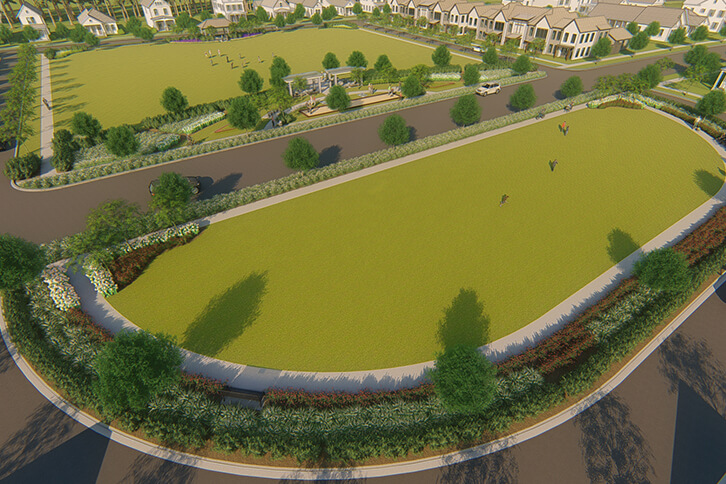 RIPPLE PARK
Looking for a park with more space to spread out and do…well, whatever? This is it! Ripple Park is where the play happens. Here, you'll find an open, flexible lawn for soccer, yoga, and events (like the coolest Glow Golf recently put on by LiveNexton), a permanent bocce ball court, spots for cornhole, trellis swings, play berms (we told you there would be rolling), and even a patio with movable furniture. So you can configure and reconfigure as your neighbors drop by for a chat. Of course, it's all surrounded by native trees and plants to add a little ambiance, some shade, and a bit of magic.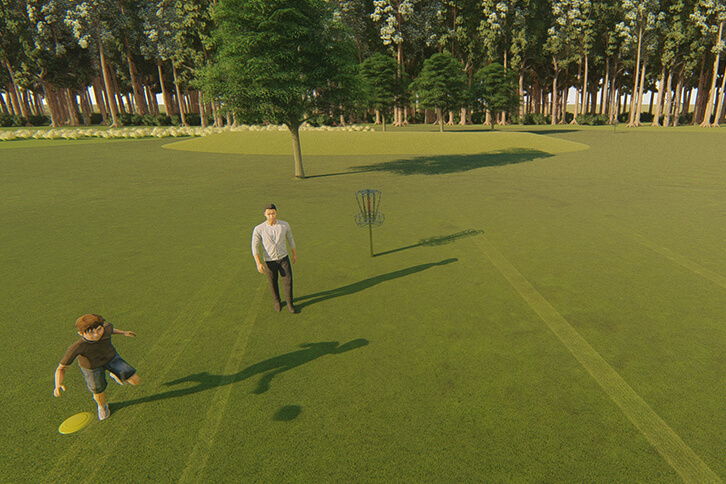 RIVERSTONE PARK
You asked. We delivered. Get your throwing arms ready, practice your putts, and prepare to glide: 12 holes of Disc Golf are the centerpiece of Riverstone Park. Not into frolf (yet)? There's still plenty to explore. Luscious, native plants will frame the large, open park, while pebble-like berms will flow through. It's a fun spot for the kids, a relaxing stroll for you, and something in between for all those who can't choose.
CANAL PARK
This will be your favorite place come mid-spring, when the star-jasmine bursts into fragrant bloom. Enjoy the scent and sights as your stroll down a quintessential Live Oak allée. It won't be long before the Spanish moss drapes from the trees' swooping branches. An indulgence for every sense. The bad news? You'll have to head home eventually. Good thing home is just a few easy blocks away.
Midtown's first parks are coming soon. Need to get your park on, like, now? While you wait, get to know 42 additional parks spread across 3 neighborhoods. From puppy play time and picnicking, to sunbathing and soccer ball-kicking, you'll find plenty of parkage to meet your needs – and then some.
Want to live where the newest of the new is happening? Explore homes at Midtown, then drop by today. We can't wait to meet you.