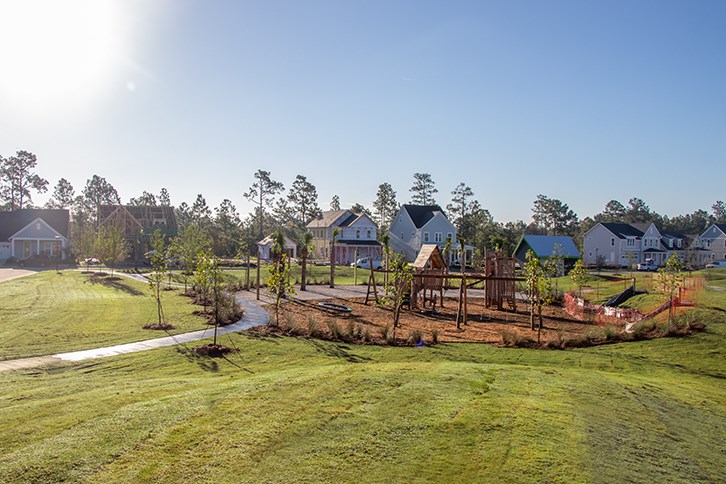 Parks Aplenty: Your Guide to Nexton's Parks
It's a fact - big yards = big maintenance. And for some, that also equals more burden than bliss. That's why, at Nexton, you'll find the home site sizes as varied as the people who call our growing community home. If you're seeking more private green space for your family, we've got a spot for you in Midtown - where some of Nexton's largest yards are waiting.
Or are you a quality of quantity kind of person? We've got you covered, too. And you won't miss out on all that outdoor goodness we get so excited about at Nexton, because you'll have 46 different parks to choose from.
Yes - we counted - 46 different parks across 4 neighborhoods. Why so many? Because we believe no matter where you are in Nexton, you should have at least one park within easy walking or biking distance. And because a variety of parks means a variety of fun.
Want to see them all? Start with these park guides – Brighton Park Village, Midtown, Del Webb Nexton & North Creek – and then venture out to see them in person. You'll find lush green lawns, places for picnicking perfection, towering pines, and little delights that add character to each park – and a smile to your face.
Below, some of our favorite ways to enjoy each one.  
Where to picnic
Let's start in the yummiest part of the community – Nexton Square! Take a seat at one of the tables or plop down on the grassy lawn in the middle of Nexton Square and take a look around. Pizza, sushi, or burgers today? There's also tacos, steak, smoothies and wraps, and to-die-for biscuits. And don't forget a donut or ice cream for dessert! Picnics don't get easier than this!
If you'd rather go traditional and pack a basket with your favorite home-made goodies, try Encore Park, Sunrise Park, Barefoot Park, or Elbow Park.
Of course, our plentiful pocket parks are always prime real estate for a picnic blanket.
Where to work outside
Brown Family Park is a natural place to hook up to GigaFi (thanks, Home Telecom!) and get some work done while taking in some fresh air. Dozens of bird species call this park home, providing a lovely soundtrack to your workday.
The overlook on the Great Lawn is also an excellent place to mix work and play. While you get the job done, you're likely to see a few ducks or cormorants taking a dip in the pond. They're the best kind of coworkers! 
Where to start a pick-up game
Any open grassy lawn, basically! If you want to throw a football or baseball, try Encore Park, Long Meadow, Sliver Lawn, or Wiffle Green. Clear Bend Mews or Wedge Mews are perfect for games like croquet or bocce.
Of course, the Great Lawn is home to dozens of pick-up games each day.
Where to relax, chat, and stroll
Have you visited Inspiration Park? The new space is comprised of a paved walking back that centers on a large pond. It's already a peaceful destination in its own right, but when the freshly planted trees have grown tall and strong, it'll also provide shade and wildlife habitat for you to enjoy.
Waterside Park is a hidden gem, tucked behind some homes just across from the Swim Club, and includes one of the largest ponds at Nexton. You'll also love strolling the length of Sunrise Park, where the landscape starts with large shady trees, turns to lawn framed by feathery grasses, and back again.
The pond and park nearby North Creek Village's club house are also great for a little R&R! 
Where to take the kids to play
Greeting House Tot Lot. The name gives it away! Swings, slides, climbing equipment and more make it a popular destination for the kiddos. There's also a fob-accessible bathroom maintained by the POA, the importance of which any toddler-raising parent can attest!  
For running off energy, let your wild things loose on the Great Lawn, Long Meadow Park, or Wiffle Green. Tall Gee Woods, another tucked-away-its-almost-secret park, was one of our first parks, designed for imaginative play beneath the pines. And you'll find almost a dozen pocket parks spread throughout the community, so you'll never have to go far to get some grass beneath those tiny toes. 
Encore Park (pictured above) made its debut in late 2020 with five acres of rolling lawn (plenty of hills for intentional tumbling, of course), meandering trails, and a truly spectacular kids area set to become your new favorite BPV destination. 
Where to take the pup to play
Your four-legged BFF is going to love life at Nexton. Miles and miles of pathways and trails to explore - some tidy and paved, and others loosely landscaped and rugged. Your route to the Dog Park can be a fresh adventure every day. The path around the Great Lawn is a festival of sights and scents, and you're almost guaranteed to pass another furry friend while enjoying a walk to Brown Family Park via Brighton Park Boulevard Trail. 
Like an extension of your lawn…that you don't have to mow
Midtown Nexton comes with plans for even more parks. Each a thoughtfully designed destination for connecting with nature and one another. Two things we can never get enough of. 
It's all right here. Join us.