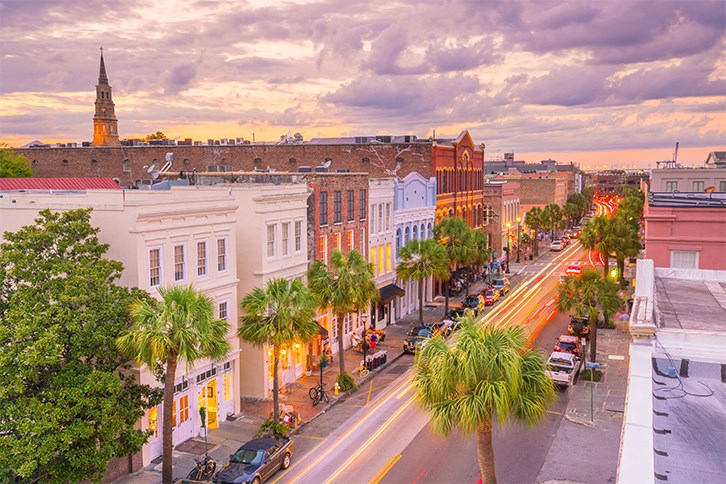 10 Years as the Number One Small City – 10 reasons we love the Charleston region
A decade at the top. Charleston's been named the #1 Small City in the US by Conde Nast Traveler readers for the 10th year in a row. In honor of the accolade, we've narrowed down our favorite features of the Charleston region to a tidy 10.
The natural environment
It's inspired poetry, books, and music. The South Carolina Lowcountry is a wonder to all who experience it. Starting with the cool blue waves of the Atlantic Ocean – that you can visit via 5 different beaches within the area – to the tidal rivers stretching inland. From the micro-habitats of the fiddler crab to the flooded forests of Cypress Gardens, home to plethora of creates big and small. The natural flora and fauna of the Charleston region would be enough to draw tourist and new homeowners all by itself. But we still have 9 additional favorites to share!


The people
Southern hospitality. It's real, y'all. And in Charleston it takes on a fresh and modern shape, inviting anyone and everyone to a cool glass of a sweet tea and a friendly chat. And depending on the season, maybe an oyster roast or lowcountry boil, too!


The history
So much of our nation's history took place in this little corner of the world. Every cobblestone a little clue, every 300-year-old live oak a memory. From Fort Sumter to Middleton place, Morris Island Lighthouse to Dock Street Theater, opportunities to walk in the footsteps of history are endless.


The food
Oh, the food. Where do we begin? The culinary scene in the Charleston region is as rich and diverse as the people who call it home, pleasing palates from the world over and stacking up awards and recognitions from the planet's greatest food critics. We have James Beard Award-winning chefs serving up creative, mind-blogging-but-mouth-pleasing concoctions in hotspots on King Street AND chefs serving centuries old family recipes in almost-hidden, hole-in the-wall places that only the luckiest stumble upon. This place is foodie heaven.


The food
No, it's not a typo. We just couldn't limit the story of Charleston's culinary scene to one bullet point. We'd like to use this space to highlight some can't-miss foodies spots:

FIG – This is one of those award-winning places we were talking about. And it stands up to its reputation each and every meal. Go for the pâté and whatever out-of-this-world seafood dish they're serving that day. You'll be booking your next visit before the check comes.

Bowen's Island – Counter-served seafood in an almost-outdoors setting over the water, complete with graffitied walls and eclectic décor. You'll want to leave your heels and dinner jacket at home. Bowen's Island has been serving shovels of oysters to guests for over 60 years and you'll still have to arrive early to get a seat. It's worth it.

Blind Tiger Pub - Upscale bar food in one of the coolest settings in Charleston. Dating back to 1803, the buildering includes a brick-walled courtyard that feels like a step back in time. Except for the cold, local beer – that's definitely fresh.

Xiao Bao– A mix of Chinese, Japanese, Thai, and Vietnamese inside a former gas station. Start with an okonomiyaki. It's spectacular.  

Poogan's Porch – Southern cooking done right. Fried chicken, biscuits, pimento cheese…and an incredible team behind it all. And they'll be opening a new joint at Nexton Square later this year. The best of Charleston is on your doorstep at Nexton. 


The weather
Snow lovers, beware. You'll probably be doing a lot of travel to the mountains to get your fluffy white snow fix. Here, we're bathing in sunshine and great temps nearly year-round, with just enough cool weather mid-winter to justify those cute boost and fluffy coats.


The culture
And by that we mean art, music, festivals, and more. There is always something to do here, something to see here, and something to hear here, from fine art to popular music.


The jobs
This is a reason to make your annual Charleston trip a more permanent affair. All of the above – paired with favorable tax incentives - makes Charleston an attractive place for businesses of all types. Big transportation companies like Volvo, Mercedes, and Boeing all the region home, there's a budding tech scene (some call us The Silicon Harbor), and health care and hospitality are always growing. Chances are, there's a career path made for you in the Lowcountry.


The shopping
Don't worry fashion lovers, there's something for you in Charleston, too. Top retailers and adorable boutiques keep shopaholics satiated – and very well dressed. Try King Street and Mt. Pleasant Town Center for the big names, and be sure to visit the dozens of privately-owned boutiques for one-of-a-kinds you can't find anywhere else.


The future
It all adds up to a quality of life unlike anywhere else in the United States. The future is oh-so-bright here in the Charleston region. Won't you join us?

Nexton is a new homes community located in Summerville, SC. 25 minutes from downtown Charleston and 40 minutes to the nearest beach. Explore our home selection today, from townhomes for one to single-family homes for many, and the growing shopping and dining areas serving the community and the region.