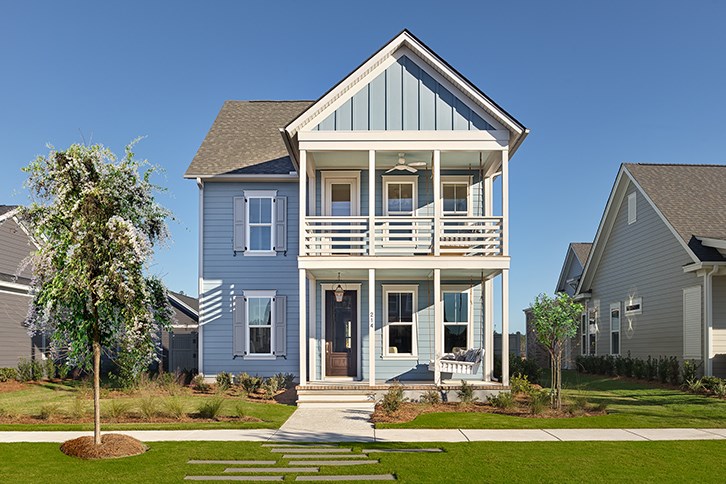 Multi-generational Living at Nexton
A few years ago, Builder Online shared a study confirming what we were already seeing on the ground: a rise in demand for multigenerational homes. Financial benefits and the conveniences of pairing up were driving generations to settle into cohabitation, and they were beginning to look for homes to accommodate. 
It was a trend that would endure for a few years and then sky-rocket when the pandemic hit the United States. Between April and June 2020, the National Association of Realtors reported a 15% increase in the demand for multigenerational homes. 
Thankfully, Nexton was prepared. The launch of Midtown brought additional home types to an already diverse offering, including homes ideal for the multigenerational household. 
Below, some of the stand-out features that make Nexton homes suitable for multigenerational living, and a few in particular you should check out if this way of life is in your future. 
Make Room
First and foremost, an ideal multigenerational home has space for all occupants. Often, "space" means raw square footage, but it can also mean clever use of the spaces within a modestly sized home. Having dual purpose rooms  - a playroom that doubles as an office during the workday, for example - can maximize function of every square foot. Prioritize bedrooms (everyone needs a comfortable, private place to rest their heads) then move onto what will work as an office, entertainment room, and so on.  
At Nexton, Pulte Homes' Marigold plan can stretch up to 2,838 square feet and has multiple flex spaces that can be used as gathering spots, bedrooms, or even balconies. The home can be fitted to include 3, 4, or 5 bedrooms and multiple bath configurations. If maximizing a smaller square footage instead of adding more space is your thing, take a look at Saussy Burbank's Bayberry plan. It's often lauded as the perfect size-down-without-feeling-it home, with flexible spaces and just-enough square footage. 
Privacy Please  
For everyone to coexist comfortably in a multigenerational home, careful consideration should be made to ensure a balance between places of togetherness and places of separation. The kitchen, living room, and outside space are spots where you should expect steady hustle and bustle. Since one house will likely be running on many schedules, bedrooms feel more peaceful when they're more secluded. Having multiple entrances to the home can also help with privacy and noise reduction.  
Our builders also looked outside the primary residence's four walls to make multigenerational living work. New Leaf Builders offers the Aneto, Canella, Rosamarino, and Salvia home plans that can include a "casita," a detached mini guest house that includes a bedroom, living room, kitchenette, and full bathroom. Positioned facing the home's primary courtyard, occupants also have easy access to the main living areas in the house. 
It's a unique, flexible option for those living with grandparents or even college students that allows them to stay connected to the family while also having their own private space. Those staying here can maintain a level of independence and freedom while benefiting from close proximity to loved ones.
Accessibility
For families with elderly or disabled members, it's important to have at least one downstairs bedroom and bathroom. Several of our builders offer multiple owners' suites within one home, designed with the multi-gen family in mind. 
Popular home models that come with a convenient downstairs owners' suite standard include Saussy Burbank's Windward plan (which you can also see on model row) and True Homes' Montcrest plan. 
Of course, single-story homes may fit the bill, with the Hutchinson by Homes by Dickerson and the Witherbee by Ashton Woods among buyers' top choices. And as previously mentioned, the Popular by Pulte include two owners' suites, one downstairs and one up. 
In all, there are more than two dozen home plans throughout Nexton's neighborhoods designed to accommodate a multigenerational family with varying levels of ability.
Do What's Best for your Family 
Nobody knows how your family best functions better than you. Do you want quaint and cozy or large and luxurious? A detached casita for a little space or bedrooms next door? With nearly 100 different floor plans throughout Nexton's four villages, we know there's one to make your entire family happy - from ages 1 to 100.