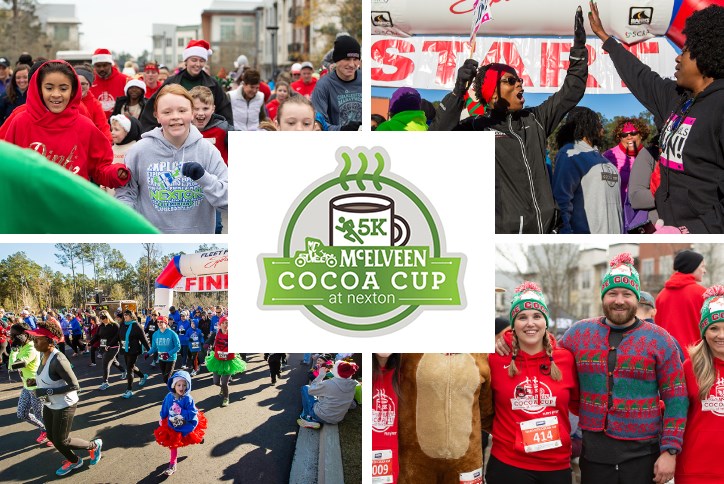 Celebrating the Cocoa Cup
A little more than 8 years ago, we had an idea – and a goal. How could we bring lots of people together to experience Nexton, even though the community didn't even have its first home? At the time, we had a park, an office building, a hotel and Carolina Ale House. We wondered…what kind of event would draw the masses AND give a flavor of what's to come in our budding community? And most importantly, how can we make it really fun?
And the Cocoa Cup was born. Nexton's cornerstones come together to form a first-of-its kind Summerville event that now sells out in a hurry each and every year. Each December, thousands gather early (but not TOO early) on the Saturday morning before Christmas to be part of one-mile family fun run or certified 5K. Which of course comes with the coveted Nike hoodie.
The scenic course kicks off at Brown Family Park and flows through Brighton Park Village, allowing runners and walkers to take in the homes' very merry holiday décor. And homeowners love cheering racers on from their front porches! After crossing the finish line, the fun continues with delicious hot cocoa in hand. A holiday costume contest, appearance by the big man in red, awards ceremony and other festivities that fill Brown Family Park.
Yes, we burnt a batch or two of cocoa along the way and certainly didn't start with thousands of racers. Our first Cocoa Cup 5K had only 750 participants (and we thought THAT was a lot). The number quickly grew as the Lowcountry's running community embraced this quirky event. This year, 2,500+ people have registered for the annual Cocoa Cup 5K – which sold out in a matter of days.
Yes, we hope to expand the route in the future. But, if you didn't manage to snag a spot this year, we'd still love to see you enjoying in the festivities in the park and cheering on this year's racers. It's a beautiful way to celebrate the holidays and then enjoy lunch at one of the amazing restaurants here in Nexton.