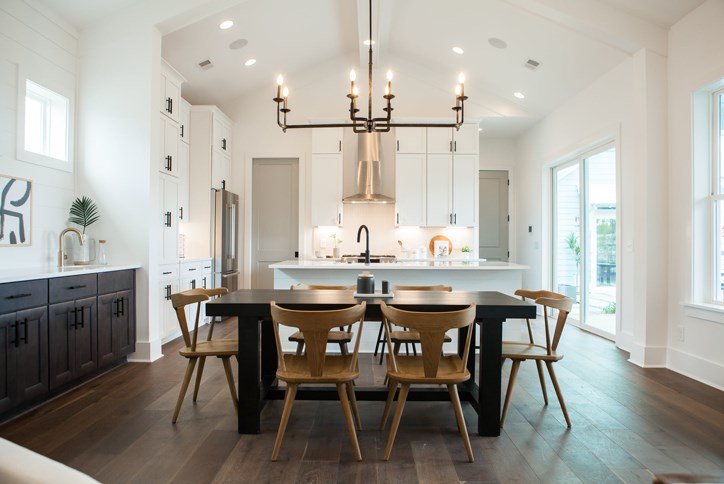 Home design trends we'll see in 2022
Building a new home or considering a restyle of your current one? This blog's for you! Hear all about the design trends coming in 2022 from Styled-Design duo Brittany and Trenton!
Design trends typically reflect the times. For nearly two years now homeowners have really had the chance to assess what they want their home to reflect, whether that be in making design improvements and running with a weekend DIY project, or thoughtfully choosing design options and selections for a new build. 2022 direction is all about creative freedom, bringing experiences into the home that have been missed, and making design choices that really speak to individuality. As we see with our clients, homeowners want to truly make their home feel like their own!
It's time to start thinking about what design trends will hold the most popularity heading into the new year. Here are our predictions and suggestions of what you can expect within the design space, even when visiting model row and popping up within Nexton neighborhoods today.
Multifunctional, Intentional Use of Space
With the rise of working from home and the need for unexpected places to now be usable, homeowners are getting creative and making the most of their square footage. Not only does carving out an office from an unused closet increase the overall functionality but gives design options that wouldn't be available otherwise. Details really do matter and these types of modifications to your home don't go unnoticed, whether it be by guests visiting or when in the market to sell. The trends you see with paint and black accents in the new year would be perfect to incorporate into your newly transformed space. In addition, overall comfort and durability within these spaces are key based on needing to withstand such frequent use.
Exterior Accents
As important it is for homeowners to bring the outside in, homeowners are wanting to décor and style the outside of their home as a carryover from their style inside. Not only does the space want to be functional and usable regardless of the lot size or square footage, adding accents adds a layer of customization and truly sets your home apart from your neighbors. A top accent for 2022 is metal roofing, especially as an accent on a porch roof or an awning roof. Matching the metal to gutter selections is super sharp and makes the home pop! Just as natural accents are a top contributor for interior design, wood, stone elements and a light, white-washed brick are common materials to add to your exterior or feature in your landscape. We recommend adding wood trim to highlight your main entrance or porch pillars to give you that uniqueness and charm.
Painted Doors and Wood Accent Walls
Just as homeowners are switching it up painting cabinetry, painting interior doors and accent walls is the switch to make! Standard white doors, shiplap, wainscoting, and paneling are truly the easiest targets for a quick, effective change to personalize your space. It's a cost-conscious upgrade and easily able to be done as a DIY project! You can paint all interior doors the same color or just paint the inside of the exterior doors of your home. The trend continues to point towards dark and moody, but we personally recommend something lighter, smoother, and natural. Pick one or two of these accent colors and layer them in throughout the home – maybe your interior doors are one color while your mudroom cabinetry and kitchen island is the other.
Black Accents
Accents whether it be cabinet hardware, bathroom faucets, or curtain rods, both matte and shiny black has been the hot choice and will continue to strive in 2022. Homeowners will be swapping out or installing black light fixtures, choosing black window frames, even going with black gutters, and black appliances. The color is strong, consistent, timeless, widely available and coordinates so well with other metals like chrome and brass – it's got our vote and we actually prefer to mix metals!
More White, Less Grey
Everyone knows the same couple shades of light grey have been the go-to standard color for homebuilders across the board. Equally homeowners who needed a change from off-white or cream ended up adopting that same grey color based on popularity. We're all guilty! All-white walls are going to be selected over grey more and more based on it's versatility with other accent colors and overall feeling of being new. Super sharp with the trend of black accents too!
Dark Exteriors
First and foremost, we love an all-white house. Both lighter or even coastal colors for exteriors being in the Lowcountry will continue to be primarily what we see, but dark exteriors are in. Exteriors are trending to be moody, bold, modern – a house full of personality that stands out. You'll see this today with modern farmhouses choosing a dark charcoal, evergreen, or even black base color. Homeowners can couple with a lighter siding, trim or even foundation color and choose sleek outdoor lighting.
Warm Cabinets and Countertops
All-white kitchens and baths with white cabinets, white counters, and white subway are shifting to kitchens and baths switching it up a bit. Just as we love a white exterior, we too love a white kitchen or bath and will continue to see this heavily chosen. With homeowners wanting a change of pace, we will likely continue to see cabinets refinished and painted in popular colors like a deep navy, green, or grey. To stay consistent with the direction of bringing warmth into your home, we recommend something a bit more neutral or even nature inspired. Choosing a light green, pale blue or a creamy beige are all versatile options, yet less dramatic. Perfect for a wood-wrapped kitchen island or shiplap bulter's pantry backsplash! Regardless of the cabinet color or direction, light quartz and granite counters will remain popular based on look but also functionality. We will see new construction homeowners going a more organic route with natural wood cabinets, which will help from a cost perspective too. Specifically warm shades of green, as well as richer jewel tones are top contenders into next year!
Mimicking Colors Found Outside
Homeowners will want the floorplan they settle on and the design layout of the space once settled in to be all about brining nature indoors, whether it be by neutral color selections, layering in greenery, or choosing to have slider doors to get fresh air. We're all about maximizing natural light within the spaces we design, especially when it comes to selecting lighting fixtures or adding accent lighting and how that sets the tone of the room. Natural elements, shapes and textures along with organic accents will be an easy way to incorporate this look into your home. Also choosing to shop both furniture and décor sourced locally – reclaimed wood, cork, bamboo, jute, glass, recycled plastic and metal.
Light Flooring
Sticking with an all-natural palette and various earthy textures, light floors is a primary way to make spaces warm and inviting. Homeowners will be choosing wider-planked flooring with white or blonde tones. Getting creative with flooring in an entry or powder bath by laying it in a different pattern from the rest of the home is creative and unique!

Meet Brittany and Trenton
We're a husband-and-wife design team based out of Summerville and just happen to be Nexton homeowners. Our primary goal is to keep interior design simple and easy from start to finish, hassle free and budget friendly. Depending on the nature of project, we offer a variety of affordable on-site and virtual service options to make your space thrive.
Meet the Design Duo and see their work at www.brittanyandtrenton.com.