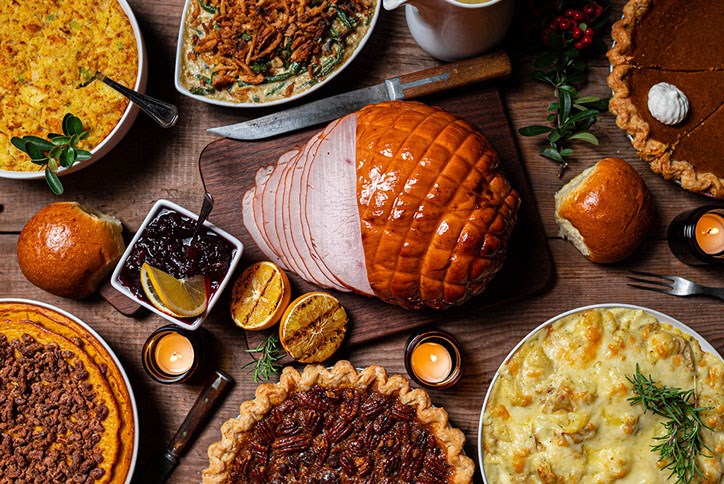 Taste of Nexton: Thanksgiving
Ah, November. When the sweetgrass illuminates Nexton's pathways, the sunsets glow orange and pink, and pumpkin spice scents fill the air. It all culminates in a long weekend kicked-off with great food and a gathering of friends and family: Thanksgiving. A moment to rest and connect before the rush of the Christmas season. And a day to get down on some turkey, indulge in all the mashed potatoes, and break the rules on what constitutes acceptable amounts of sugar in a side dish! 
That day dreaming got us wondering...exactly how do our Nexton neighbors celebrate? Traditional oven-roasted turkeys and green bean casserole? Are they spicing things up with unique twists on classics...or even bunting them all together? Perhaps they're outsourcing the hard work to the pros, and ordering to-go from Halls Chophouse Nexton or New York Butcher Shoppe so they can focus on friendship and football. 
So, of course, we asked them! If you're also wondering what tastes, sights, and scents make an appearance on tables across Nexton, read on!
The Classics...Nexton-style
In the Cataline household, you'll find not one, but two turkeys gracing the table. One perfectly oven-roasted with traditional stuffing (accented with brandy and apricots) and the other fresh out of the smoker. Here's how they prep and make the flavors burst through: 
Cataline Smoked Turkey
Brine 24 hours in Publix pre-mixed sweet tea plus salt, salt, lemon slices, orange slices and black peppercorns and herbs. 

Rub with Emeril's BAM seasoning. 

Use hickory wood chips on the smoker

Cook to 145 degrees. 

Bonus tip: "The leftovers make AWARD WINNING turkey soup with Carolina gold rice and lemon," Ms. Cataline shared. 
Also a big winner around Nexton? Sweet potato casserole. Described as "dessert posing as a side dish," by the Ward family, they usually opt for a take on the famous Ruth Chris Steakhouse version, found here. 
For dessert, a seasonal Harvest Pie is a must for the Bostic family. "Apples, walnuts, cinnamon and fresh cranberries are a family favorite," Mr. Bostic shared. We think this recipe could be tailored with this family's favorite flavors, if you want to give it a go!
Think outside the turkey
The Fields family likes to think outside the box on Thanksgiving and has started a new tradition surrounding a Lowcountry favorite: Lowcountry Boil, sometimes known as Frogmore Stew. 
"We have enjoyed the change in pace, leaving the hot, chaotic kitchen for the open air of the backyard. Dads gather round and watch the pot of potatoes and corn awaiting the right time to drop in savory and spicy sausage of their choices, plus fresh local shrimp. Children can be seen running around the park and teens gathered on the porch, while parents are able to relax, chat, and reflect on the years past," Ms. Fields shared. 
"We have settled well into our favorite low key Thanksgiving tradition where we focus on connecting with loved ones over a taste of the Lowcountry!" 
It all sounds Lowcountry-perfect to us. Anyone else re-evaluating their Thanksgiving menu? 
For something sweet, the Massarelli family has also concocted a delicious tradition. "It's been a tradition in our family to make fresh Cannolis for over 30 years. I grew up in the kitchen with my Dad mixing fresh cannoli cream the day before Thanksgiving. Such a sweet memory that I'll cherish forever," Ms. Massrelli shared.
These days, the family often opts for fresh filled Cannoli's from Holy City Cannoli, which they highly recommend. 
And now some assistance from the professionals
Whether you're keeping Thanksgiving low key this year, find yourself short on time to cook, or just flat out don't want to cook (we feel you), your turkey day table can still be bountiful, thanks to a number of Nexton restaurants offering fully cooked Thanksgiving dinner or take-away sides that just need some time in the oven. 
Halls Chophouse Nexton is offering a full menu for those that place orders by November 19. Think: traditional roasted turkey or ham, classics like stuffing and whipped potatoes, all topped off with a freshly made pie. It's the perfect way to scratch your Thanksgiving-flavors itch without spending time in the kitchen. And you know it'll be spectacular - it's Halls Chophouse! Here's how to order. 
We recommend checking out New York Butcher Shoppe's prepared meals any day of the year, but Thanksgiving might be the perfect time to give your favorites a test run. Each side offered serves 8-10 people and is chef prepared for your table. Savory faves like green bean casserole and mac and cheese are on the list, as well as those ubiquitous sweet potatoes and sometimes-controversial cranberry sauce (we can guarantee you'll be a cranberry devotee after trying theirs!). If you're in search of a turkey, they'll have uncooked, regionally-sourced turkeys for you to purchase for the big day, too. Details are here. 
Poogan's Southern Kitchen is another to-go option to explore! Enjoy their traditional turkey, savory sides, and crowd-pleasing pies (oh, that Hummingbird pie!). Order the entire spread or pick and choose your favorites. And it's easy to order. 

Vicious Biscuits is also lending a helping hand this year, offering take and bake biscuits to wow all your relatives and guests.  
Don't see your favorite Nexton Square restaurant on the list? Give them a call! And then drop us a note - we'd love to share more of the deliciousness available for your Thanksgiving table right here at Nexton. 
Happy meal planning, y'all - and bon appetit!