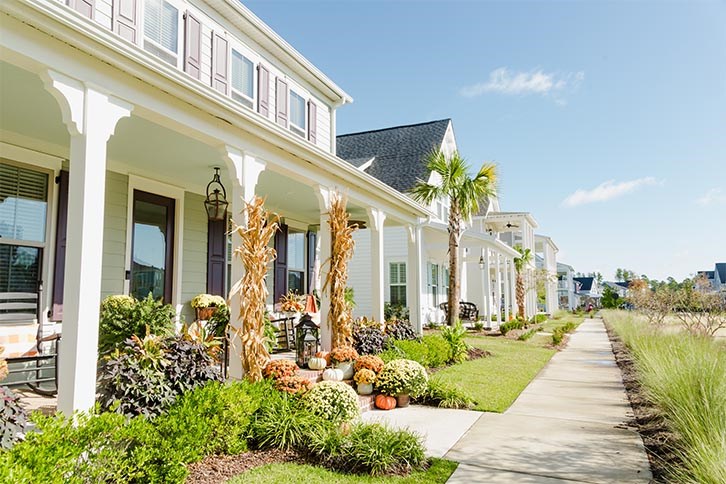 Learn about Nexton's star power
You heard the news: HGTV's hit show "Rock the Block" has selected Nexton as the filming location for season 3. The stars have been busy designing, decorating and landscaping to get these 4 houses, built by Hunter Quinn Homes, ready for prime time. Which means TV viewers across the globe will see what you already know—that Nexton rocks!
But if we're being honest, we've always known our little slice of Lowcountry had that *special something.* Call it star quality, call it pizzazz, call it southern charm. We just hope that one day you'll call it home! 
Below, a few reasons Nexton has always been ready for its 15 minutes of fame. 
1. Nexton is the #1 Community in the USA
Yep, we're still pumped about our big win with the National Association of Home Builders! And we hope you are, too. Living in the country's best community - as selected by the industry's brightest minds - means living on the cutting edge of community design and building innovation. So your days are more efficient, more convenient, and even more joyful. 
2.Charleston is the #1 City in the USA
We don't need to tell you why being part of the Charleston metro region is a game-changer. There's literally no place in the world quite like it. Where great food, deep history, and a stunning natural landscape come together. Charleston first landed the top spot on Travel & Leisure's Best Cities to Visit in the USA 9 years ago, and has kept the title ever since. Many visitors become so enraptured by the charm that they end up staying. And who can blame them, really?
3. Top restaurants and entertainment
We mentioned the world-class food above, and it's abundant throughout the Charleston area. But Nexton neighbors don't have to go far to be a part of the award-winning foodie scene: the #1 restaurant in the state has a location right here in Nexton. Make your reservations at Halls Chophouse Nexton now.
4. Neighborliness
We'll let this recent comment from a homeowner do the talking: 
It was our first year trick or treating here and let me just say how blown away I am not only by the amazing participation in decor but by the kindness every single one of our neighbors showed throughout the night. Being surrounded by people who are fun, generous, and just all around amazing is something I will forever be thankful for. We love this community and everyone in it! Thank you all for such a fun night!  - M. Odom
5. Access
Where do you want to go and how do you want to get there? North or south? Beach or snow? Plane, train, boat, or automobile? Nexton's location - minutes from I-26, 20 minutes to the airport, 30 minutes to Charleston, 30 minutes to I-95 - puts the whole east coast, and beyond, at your fingertips. 
6. Nature 
Seeking solace beneath live oaks and Spanish moss? Your only challenge will be narrowing down your exact destination. From manicured Magnolia Plantation to the wildness of Kiawah's West Beach, the area has no shortage of places to soak in the sun, a breeze, and a dose of nature. 
7. Showbiz loves it here
Rock the Block might be the closest Nexton has gotten to the action, but it's certainly not the only show or movie to find themselves drawn to the Charleston area. Parts of the following shows and movies feature some or all of the Lowcountry: Southern Charm, Outer Banks, Righteous Gemstones, The Notebook, Swamp Thing, Dear John, Cold Mountain,  The Sinner, Mr. Mercedes, Army Wives, Top Chef Season 14, Vice Principals, The Patriot, and even a Bud Seltzer commercial - filmed right here in Summerville!