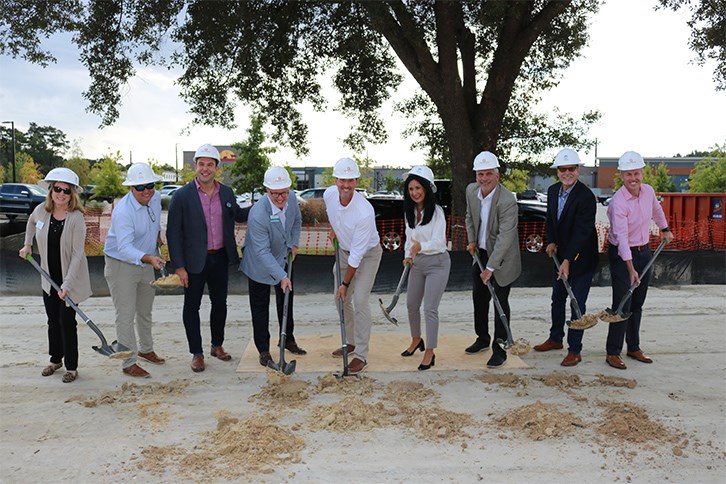 Is WRCTH (Work-Really-Close-to-Home) the new WFH? Coworking spaces popping up around Nexton
A little workplace to call your own. Not in your home, but conveniently close by. In walking distance, actually. With the state's highest internet speeds, the peace-and-quiet that you need, and the occasional water-cooler (or is it La Croix fridge these days?) conversation to inspire, connect, and motivate your most productive workday. 
Here's the thing: the existing global circumstances - fine, the pandemic, if we must be blunt - didn't necessarily make work-from-home lovers out of us all. Some people love the energy and socialization of the modern workplace. Of course, there's a place (or two, and counting!) for that at Nexton, too! 
Concept by Home Telecom
Launched in February 2021, Concept by Home Home Telecom is already abuzz with entrepreneurs, collaborators, and big thinkers on the cusp on the next hottest thing. The high-tech collaborative workspace is located on the second floor of the new Home Telecom Technology Center in Nexton, and offers a truly unique open-air co-working environment. Spaces range from desks to private offices, complimented by an amenity-rich atmosphere. Think: multiple conference rooms, private phone rooms, a slew of break rooms, dining area, and private seating overlooking Nexton's lush landscape. 
Home Telecom is always on the cutting edge: In the previous decade, they anticipated the importance of easily accessible 1 Gbps speeds and debuted GigaFi; three years ago, they upped their game with the introduction of 10 Gbps speeds for businesses with big digital demands. This time, their crystal ball showed an increased need for a work-from-OUTSIDE-the-home space here at Nexton. And Concept was born. 
Of course, it's powered by Home Telecom's quintessential multi-gigabit broadband internet and WiFi. Revisit the tour we shared a few months ago then reach out to Concept to find out about leasing a space. 
Serendipity Labs
Serendipity, by definition, means an aptitude for making desirable discoveries by accident. But we couldn't let you stumble upon this opportunity purely by chance. 
Serendipity Labs broke ground in Nexton Square just this month. A national provider of upscale coworking and flexible office spaces, this is Serendipity Labs' second commercial location in the Charleston region. The new location will offer 28,000 square feet of thoughtfully designed workspaces, including private offices, team rooms, coworking spaces and dedicated rooms for business meetings and events. The location will also include outdoor patio space and a Lab Café, offering unlimited coffee, tea and fruit-infused water as well as ergonomic desks, chairs, sofas and fast-speed, encrypted internet. 
Plus, they're smack dab in the middle of Nexton's retail, dining and entertainment destination, Nexton Square. Have you tried Halls Chophouse's lunch menu? We have a feeling these tenants will become regulars (lucky, lucky them!). Stay tuned for details on the grand opening, likely summer 2022.