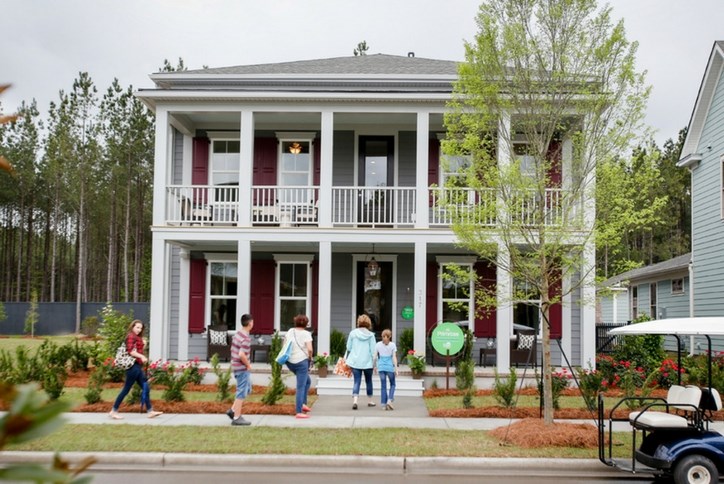 Nexton Announces Builders, Prices for First Neighborhood
SUMMERVILLE, SC Homebuyers wanting a better connection to nature, to neighbors and to the rest of the world will soon have some fresh, new home styles to choose from in the regions first gigabit community.

Nexton announced today that it has selected a group of national and regional builders to create the homes for the communitys first residential village, Brighton Park, which is scheduled to open in spring 2015. These builders have designed three all-new home collections exclusive to Nexton:
Saussy Burbank will introduce its Silverleaf collection, ranging in size from 1,750 to 2,350 square feet with prices starting in the $250,000s.
Pulte Homes Parksong collection will offer 2,500 to 3,200 square feet and is priced from the $270,000s.
The Windspring collection by John Wieland Homes will range between 2,850 to 3,350 square feet with prices beginning in the $350,000s.
These builders were chosen for their integrity, the quality of their work, and for their innate understanding of how people want to live today, said Kenneth T. Seeger, president, MWV Community Development and Land Management. And with these original home designs, they are showing that Brighton Park Village really is a whole new way to think about home.

The Nexton team spent months creating and refining a set of architectural guidelines for homes in Brighton Park Village. The goal was to be rooted in Lowcountry style but also offer a fresh response to modern life. The homes here will feel familiar but they also include a lot of new ideas, continued Seeger. We think of Brighton Park Village and all of Nexton as being both future-focused and rich in tradition.

Thanks to the GigaFi broadband service, every home in the neighborhood will have an available one-gigabit internet connection, which is 100 times faster than the average connection in South Carolina. Home Telecom delivers GigaFi.

Each home in Brighton Park will be within a short walk or bike ride of the state-of-the-art Nexton Elementary School, scheduled to open for the 2015-16 school year. A variety of parks, miles of trails and the Brighton Park Swim Club will contribute to a healthy lifestyle.

In the near future, Brighton Park will include its own village retail center. Meanwhile, Brighton Park residents can enjoy the restaurants and shops emerging in Nextons Front Street District.

About Nexton

Nexton is new thinking in community design, coming to life at I-26 and Highway 17A in Summerville, South Carolina, at the heart of metro Charlestons most vibrant growth. Its a fresh response to what people and businesses need today to be creative and successful. A place where innovation is fueled by South Carolinas first community-wide, gigabit broadband service. Where a commitment to education and healthy living will offer long-term benefits to all. And where even the smallest details are intended to make everyday life simpler and more fulfilling. Read more at NextonSC.com.

About MWV

MeadWestvaco Corporation (NYSE: MWV) is a global packaging company providing innovative solutions to the worlds most admired brands in the healthcare, beauty and personal care, food, beverage, home and garden, tobacco, and agricultural industries. The company also produces specialty chemicals for the automotive, energy, and infrastructure industries and maximizes the value of its development land holdings. MWVs network of 125 facilities and 16,000 employees spans North America, South America, Europe and Asia. The company has been recognized for financial performance and environmental stewardship with a place on the Dow Jones Sustainability World Index every year since 2004. Learn more at mwv.com.