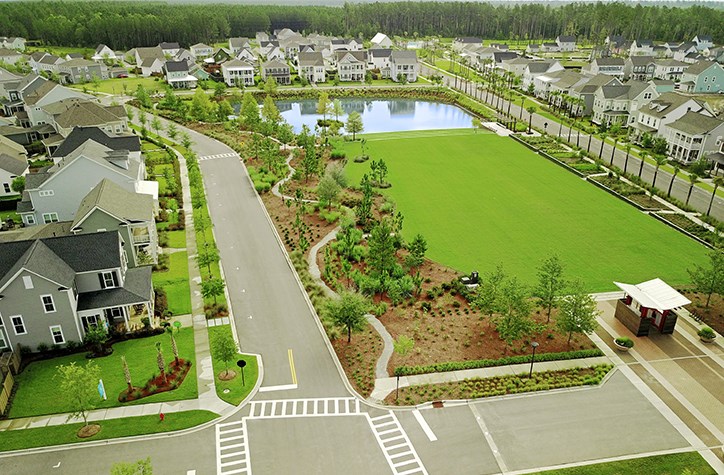 North America Sekisui House, LLC Acquires 4,000-Acre Nexton Community in Summerville, SC
SUMMERVILLE, South Carolina - March 4, 2017- NORTH AMERICA SEKISUI HOUSE, LLC (NASH) and its development partner AMERICAN NEWLAND COMMUNITIES, LP (Newland) today announced NASH's purchase of a major portion of Nexton from WESTROCK LAND AND DEVELOPMENT (WestRock). The acquisition property encompasses approximately 4,000 acres, with 400 acres designated as commercial use. WestRock will continue to develop its commercial land fronting on I-26 and US 176, including the PPCP Medical Campus, the Nexton town center retail, and various other commercial and retail projects. 
"Since 2008, we have enjoyed significant success establishing Nexton as the region's next job center, and our first residential village, Brighton Park, was named Community of the Year in 2015," commented Kenneth T. Seeger, President of WestRock Land and Development. "We selected NASH and Newland Communities because we are confident that they will follow through with our plans for Nexton as they were originally conceived. We look forward to working beside them on the properties we are continuing to develop."
Newland Communities, the development business of American Newland Communities, LP, will be the operating developer for NASH, building on its strong history of success and value creation. Newland is nationally recognized for creating complete communities, not only with the right mix of homes for all ages and life stages, but also with a full range of recreational amenities and preserved open spaces, as well as shops, employment centers, schools and essential services. 
The Nexton acquisition will be the first development project in Charleston for both NASH and Newland, and marks Newland's re-entry into South Carolina, where it will once again bring its comprehensive, award-winning lifestyle and mixed-use communities to the Palmetto State. 
"We recognize the value created by WestRock in the planning and successful launch of Nexton. They've created a great foundation for us to build upon," remarked Koji Yamada, President and Chief Operating Officer for NASH. 
"We believe Nexton is the best location in the submarket because it's in the direct path of growth," added Keith Hurand, President and Chief Operating Officer, East, for Newland. "Nexton will continue to be a catalyst for economic development and business growth for companies looking to expand, start-up or relocate to the area in order to be near where their employees call home. It's a place where people can work, shop and play, and serves as a model for responsible, well-managed progress and growth."
Both NASH and Newland share a commitment to sustainable development practices and apply these core values to the vision, planning and development of their projects. The aesthetics and design tenets that shaped Nexton align superbly with how NASH and Newland develop their own communities.
The tri-county area of Charleston, SC continues to earn accolades as a top destination to live, retire and visit. Summerville is one of the fastest growing areas in the United States, offering superior schools, access to regional amenities, as well as a great quality of life. 
Nexton has been approved for up to 13,000 residential units, comprised of single-family detached, single-family attached and multifamily. Currently, more than 200 homes have been sold or are currently under construction. Home prices in Nexton currently range from the mid $200,000s to high $400,000s. 
Newland is a diversified, mixed-use real estate company, leveraging a national platform and five decades of experience. Newland has an established presence in 14 states across the country, including in North Carolina. North Carolina projects developed in partnership with NASH include Briar Chapel, located in Chapel Hill; Wendell Falls, located outside of Raleigh; and RiverLights, located in Wilmington. 
About Nexton
Nexton represents new thinking in community and design in Summerville, SC, in the heart of Charleston's most vibrant growth corridor. Nexton is a fresh response to what people and business need today to be creative and successful, and is where innovation is fueled by South Carolina's first community-wide, gigabit broadband service. Nexton is committed to education and healthy living, and is where even the smallest details are intended to make everyday life simpler and more fulfilling.
www.nexton.com. 
About NORTH AMERICA SEKISUI HOUSE, LLC (NASH)
NASH was established in 2010 as the US business operations unit and a full subsidiary of SEKISUI HOUSE, LTD., Japan's largest homebuilder and a leading diversified developer since 1960. SEKISUI HOUSE, LTD. has built more than two million houses and has international operations in Australia, China, Singapore, and the United States. NASH establishes joint ventures to build innovative and sustainability-conscious communities and mixed-use, multifamily rental, and condominium properties across the US. NASH is headquartered in Arlington, VA. SEKISUI HOUSE is headquartered in Osaka, Japan. 
www.nashcommunities.com
About Newland Real Estate Group, LLC (Newland) 
Newland is a diversified real estate company leveraging a national platform and five decades of experience to perform challenging and diverse development, investment, management, and advisory services across a wide range of real estate. The company's mixed-use development business, Newland Communities, actively owns, operates and develops premier residential master-planned, commercial, retail, and urban mixed-use real estate across the U.S. Headquartered in San Diego, CA, Newland and its affiliated companies have completed or have underway, more than 140 diverse real estate developments, more than 20 million square feet of commercial and retail space, and 175,000 residential units in 14 states. www.newlandcommunities.com.
Editorial Contacts:
Erin Heaney, Eheaney@thebrandonagency.com, (614) 570-4161
Paul Hughes, PHughes@thebrandonagency.com, (508) 397-3669