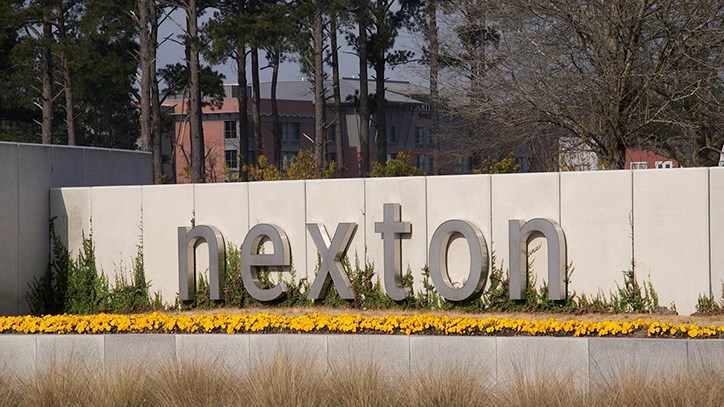 NEXTON CELEBRATES GROWTH IN 2017; PREDICTS 2018 TO BE BENCHMARK YEAR
Nexton, a mixed-use community located in Summerville, South Carolina, is celebrating a record year in 2017 with 250 home sales, the opening of two new villages and sold-out events for the community, while earning industry recognition for community excellence. Nexton continues to accommodate the Charleston area's booming growth and innovation with quality construction and amenities that homeowners desire, and is predicting 2018 to be a benchmark year.
"2017 was one of Nexton's best years since opening in March, 2014," said Cassie Cataline, director of marketing for Nexton. "Nash-Newland acquired Nexton in March, 2017, giving way to growth in housing options and amenities, attracting local residents and people moving to the Summerville area."
Boosted by Charleston's continued job growth and its status as Travel & Leisure's World's Best City, Nexton is designed to accommodate regional growth, including Volvo Cars' announcement to double its investment in Berkeley County bringing 3,900 new jobs to the plant which is located less than 10 miles from Nexton community.
With the plant scheduled to open in 2018, Nexton is especially appealing to Volvo employees relocating to the area for a number of reasons with the most attractive being an easy commute to the office. In early 2018, Berkeley County will be opening a new interchange (exit 197B) from I-26 that enters directly onto Nexton Parkway, connecting the community to 176 and will be the new entrance to Nexton.
In 2017, Nexton added two new residential neighborhoods, North Creek Village and Del Webb at Nexton, to join Brighton Park Village in providing apartments and new homes starting in the low $200,000s. But Nexton has become more than just a residential community; it's a destination that offers shopping, dining and services within biking or walking distance of home. On January 25, 2018, Nexton Square broke ground and will bring over 40 shops and restaurants to the heart of the Nexton community.
Nexton has put a large focus on wellness initiatives, sustainability and technology to parallel with the innovative industries that are expanding or relocating to the Tri-County area and foster a forward-thinking mindset for local residents and businesses.
"As Charleston continues to grow, we continue to grow," said Cataline. "2018 will be a banner year for Nexton as we connect the dots in our community. We look forward to the opening of the new interchange making our community more accessible. We will be focusing on our sustainability and technology initiatives, expand our housing and shopping options, and host more events. Our goal is to cultivate a unique and complete community lifestyle here at Nexton that is unlike anything in the Charleston area."
The Nexton community is owned by a business entity of North America Sekisui House, LLC (NASH), and is being developed by Newland Real Estate Group, LLC. NASH and Newland share a deep commitment to sustainable development practices and apply these core values to the vision, planning, and development of their projects. Nexton is one of more than 30 assets the NASH-Newland partnership owns and manages together across the US.
About Nexton
Nexton, located in the heart of Charleston's vibrant growth corridor, is a 5,000-acre mixed-use community features three housing villages: Brighton Park Village, North Creek Village and Del Webb® at Nexton that have homes ranging from the $200,000s to the $500,000s. Upon completion, Nexton is planned to have 6,500 single family homes and additional multifamily. Nexton is where innovation is fueled by South Carolina's first community-wide, gigabit broadband service. Nexton will continue to grow, but today is a complete community where you can live, work, eat and shop all within walking or biking distance from your front door. Nexton is being developed by Newland Communities, the largest private developer of planned residential and urban mixed-use communities in the United States.             
                                                                      ###
Editorial Contacts:
Cassie Cataline, ccataline@newlandco.com, (cell): 843-708-8504