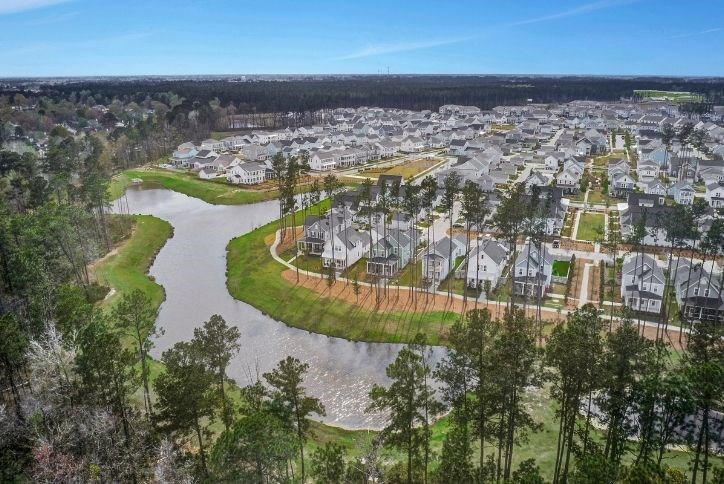 Nexton Reports Another Record-Breaking Year in Sales, Surpassing Milestone of 2,000 Homes Sold
SUMMERVILLE, S.C. – February 8, 2022 – Nexton, the most innovative and walkable community in South Carolina, reported a record-breaking 2021 that included the addition of leading commercial space as well as new amenities and residential offerings.
"It's clear that Nexton's unique opportunity to positively impact our region has resonated with the families and individuals that have chosen to live and do business in our community," said Nexton's VP of Operations Brent Gibadlo. "This year has proven that our vision to prioritize thoughtful design, innovative technology and social responsibility will continue to foster an environment where individuals can thrive in 2022 and well beyond."
COMMERCIAL
Nexton welcomed a collection of world-class retailers and commercial entities in 2021, including:
Downtown Nexton: a 100-acre development by Sharbell Development Corp. providing retail, dining, hospitality, residential, service, office, and commercial options. The first of the multi-phase project is expected to be completed in 2023 and will include multifamily residences, a mixed-use building and several outparcels.
The Pickle Bar: A new restaurant, retail and recreation concept that combines the growing popularity of pickleball with a bar and restaurant, is opening its first-ever location in the Summerville community. The project will break ground this spring.
Coastal Fertility Specialists opened its new clinic at Nexton in February 2021 and celebrated the birth of the first baby that was conceived there on March 4, 2021. The facility offers a full staff, including physicians, nurses, medical assistants, a financial counselor and a full-service andrology lab.
Serendipity Labs broke ground at Nexton Square in October 2021. The new location offers 28,000 square feet of thoughtfully designed workspaces, including private offices, team rooms and coworking spaces.
North Creek Marketplace, Nexton's newest retail center, opened its first phase in October 2021 featuring Buffalo Wild Wings, Agave Cantina, McDonalds, and Dunkin'
Workplace at Nexton, completed construction and leasing with tenants including Sweetgrass Plastic Surgery, River Landing Dentistry, Dermatology and Laser Center and additional fitness and service providers
Nexton Square added additional tenants as it nears completion. They include The Codfather, New York Butcher Shoppe, Viva Chicken, Mathnasium, TruCarts and more.
First Citizens Bank opened its Nexton branch in December 2021.
RESIDENTIAL
Nexton continued to provide a variety residential amenities and offerings to cater to all lifestyles and preferences.
576 homes sold in four residential villages including Del Webb Charleston, North Creek Village, Brighton Park Village and Midtown. Nexton has now surpassed 2,000 homes sold and Brighton Park Village is 100% sold out.
The Murray apartments, developed by Spectrum Development and managed by Greystar, delivered its amenities and first units with full lease-up anticipated in 2022.
Capstone Communities broke ground on The Villas at Nexton a single family for-rent neighborhood, at Nexton in January 2021. The first homes of this 282-unit project will deliver in March 2022, with full completion expected later this year.
In March, Nexton broke ground on the Midtown Club, an expansive wellness center located in the heart of Nexton's neighborhood, Midtown. The 8,000-square-foot facility will be available to Nexton's Residential Association members in summer 2022.
SOLIS Nexton, a new 320-unit multifamily development, is being developed by Charlotte-based Terwilliger Pappas and is expected to be completed by fall 2022.
Nexton was selected for the site of HGTV's 'Rock the Block,' one of the network's highest profile shows. Episodes will start airing on February 28, 2022.
AWARDS + ACCOLADES
Nexton received several accolades for demonstrating its commitment to forward-thinking design and innovation:
Recognized as the #1 Master-Planned Community in the U.S. by the National Association of Home Builders (NAHB) during the 2021 Nationals awards.
The NAHB also recognized Nexton with a Gold Award for Best Brochure (Master-Planned Community) and Silver Award for Best Community Welcome Center and Best Signage.
Awarded the Master Planned Community of the Year Award of Merit and Award of Merit for The Villas at Nexton during the prestigious Pacific Coast Builders Conference's 2021 Gold Nugget Awards
Recognized as #33 of the 50 top-selling master-planned communities by RCLCO Real Estate Advisors, based on year-end 2021 home sales.
LOOKING AHEAD
As Nexton closes another chapter of success, the community continues to set the industry standard for master-planned communities across the U.S. The following can be expected from the community in 2022:
This summer Crosland Southeast will break ground on the first phase of One Nexton, a 23.66-acre Publix-anchored mixed-use development that will also feature 37,500 square feet of retail space as well as a corner outparcel and 351 Class-A apartments. One Nexton will feature green space for year-round programming, plus additional parks and trails, all of which are walkable and bikeable to the 7,500 homes in Nexton. Currently in final design and engineering, the first-phase apartments are expected to deliver in late fall 2023.
MUSC Health Community Hospital at Nexton: Medical University of South Carolina (MUSC) is in planning for a $130 million hospital, adjacent to Midtown, that will provide a combination of inpatient and outpatient services. The 128-patient bed facility will include four operating rooms, eight labor and delivery rooms, diagnostic testing and imaging, and emergency services.
The Hub at Nexton will break ground this year, with plans to offer 88,000 square feet of medical office, retail, office, and restaurant space
Nexton's first Berkeley County Regional Park will break ground offering sports fields, dog park, fishing pond and large-format event space
For media inquiries, email nexton@louhammond.com.

About Nexton
Nexton is owned by a business entity of North America Sekisui House, LLC (NASH), and is developed by Newland. NASH and Newland share a deep commitment to sustainable development practices and apply these core values to the vision, planning, and development of their projects. Recognized as a Top 50 Selling Master-Planned Community in the U.S. by Robert Charles Lesser & Co. (RCLCO), Nexton is one of more than 20 assets the NASHNewland partnership owns and manages together across the U.S. newlandco.com | nashcommunities.com