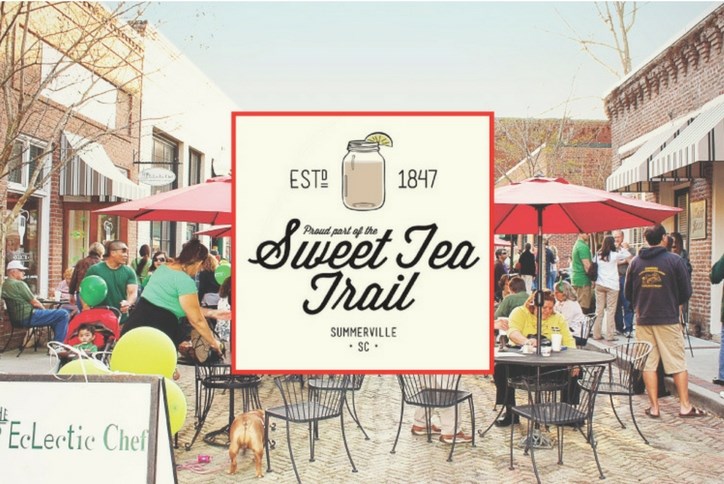 Explore Summerville on the Sweet Tea Trail
The only thing sweeter than Southern sweet tea? The endlessly charming town of Summerville. In fact, being part of Summerville is one of Nexton's greatest perks! A small town rich in historic and natural treasures, you'll find uniquely Southern dining, a variety of shopping, and historical and cultural experiences at every turn. The team at the Summerville Visitor's Center has created a brilliant way for visitors and residents to experience everything the town has to offer - The Sweet Tea Trail.
So named because of Summerville's title as The Birthplace of Sweet Tea, the trail is a guide designed to help visitors and locals alike explore Summerville. The path cleverly weaves in Summerville's rich history with stops that allow visitors to experience exceptional dining and shopping.
The Sweet Tea Trail is broken into 5 districts: Business, Historic, Garden, Colonial, and Plantation. Though there's no official beginning, Nexton is actually a great place to start your journey through the five districts of the town.
The heart of the Business District is Azalea Square. Here you'll find modern shopping amenities and restaurants. Follow the trail to charming and historic downtown Summerville. Relax on a bench in Hutchinson Square under a canopy of oaks, or visit one of the many local businesses for lunch - we recommend Eclectic Chef, where you'll find fresh and flavorful salads and sandwiches. Wash it down with a selection from their Iced Tea Bar. Then visit Coastal Coffee Roasters for a fresh, locally roasted cup of joe.
From there, the trail winds into the Garden District. Storied Azalea Park puts on a stunning show of flowers every spring, but the landscaped pathways and ponds make for a great place for a walk any time of year.
The trail continues into Colonial Dorchester State Park. The park is a beacon for history buffs - archaeologists are currently unearthing a colonial settlement, helping to paint a clearer picture of life in colonial South Carolina.
The Sweet Tea Trail finishes with a flourish in the scenic Plantation District, where world-class attractions charm thousands of guests every year: Middleton Place, Magnolia Gardens and Drayton Hall Plantation. Each is a captivating look into 18th century southern Plantation life.
We can't recommend spending a day on the Sweet Tea Trail enough. It's the perfect way to take in everything charming Summerville has to offer!
For more information, visit visitsummerville.com, and swing by the visitor's center on your way through town.