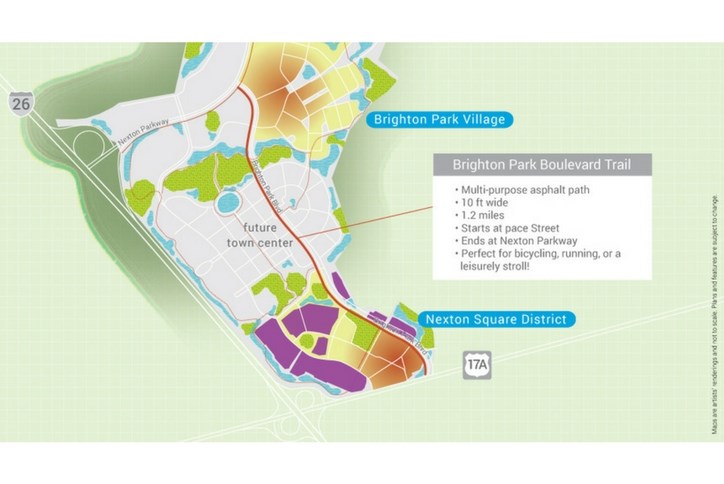 South Carolina's Most Pleasant Commute
Nexton offers a standing invitation to get outside and move your body. And we're happy to announce the completion of a new place to do just that: Brighton Park Boulevard Trail.
Meandering 1.2 miles through Nexton's tall trees and lush plantings, the trail starts at Pace Street near the Nexton Square District and continues to the end of Brighton Park Boulevard at Nexton Parkway, passing by Brown Family Park on the way.
The multi-purpose path is ideal for bicycling with friends and family, getting in a morning run, or walking to Nexton Square to meet a friend for coffee (shopping and restaurants coming soon). And for those that are lucky enough to live AND work at Nexton - it might just be South Carolina's most pleasant commute!
The trail is a comfortable 10-feet wide, so passing by neighbors will be a breeze. It also means plenty of room for kiddos to practice on those training wheels!
We were thinking sustainably when we built the trail, too. The path is made from 55% recycled asphalt. And the lights that run the length of Brighton Park Boulevard? All downward facing LEDs. They allow you to safely walk the trail at night while being more energy efficient. Because they face downward, there won't be any artificial light obstructing your view of the Milky Way! And many of the trees lining the Brighton Park Boulevard trail were relocated from our very own tree farm, so we know they were grown with the utmost attention to sustainability.
The Brighton Park Boulevard Trail will eventually connect to the 50-mile network of paved paths and rugged trails that we're building throughout Nexton, along with wide stretches of conserved forestland, ponds and waterways. With almost half our community devoted to parks and nature, the opportunity to revel in the flora and fauna of the Lowcountry will literally be all around you. Get started on Brighton Park Boulevard Trail!