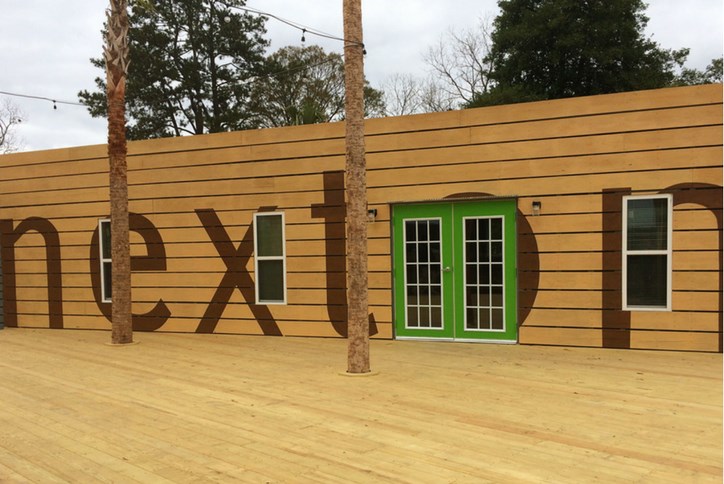 A Lowcountry Art Infusion
You may know him for his grits girl mural on the side Hominy Grill in downtown Charleston. Or maybe you've stopped to gaze at the detailed painting on the side of Mira Winery offices on Queen Street, trying to identify Charleston's best chefs and brightest culinary minds. There's also the Hank's logo atop the restaurant's front door, the Palmetto Brewery patio murals, and the mural of over-sized fruits and vegetables that graces the exterior of food hub Grow Food Carolina. If none of these ring a bell, you've certainly ran into the Taco Boy logo (most likely while enjoying a taco or three).
These career-making pieces are just a small fraction of the vast portfolio of artist David Boatwright. He's been making the Lowcountry a more colorful place for more than 15 years. His latest portfolio piece? The Nexton logos adorning the soon-to-open Front Porch Studio.
David describes his style as 'back to the future,' but he's careful to clarify this doesn't mean a replica of what's been done in the past. Instead, his style takes the best of the past and combines it with the distinctly modern. This approach to art has made David's work fit perfectly into the ethos of the Lowcountry. It's a method we've worked to incorporate to the architecture of Nexton, too, making David a perfect partner for our community.
Sharing such great company is humbling, and pretty exciting. How fortunate we are to have one of Charleston's most notable artists infusing a little Lowcountry culture into our community! Expect to see more of David's work brightening the walls and common spaces of Nexton as we grow.