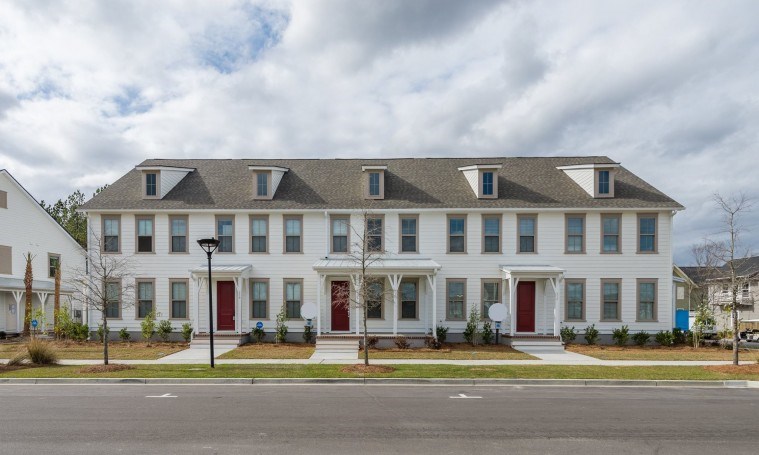 Four reasons to love Parkside Townhomes at Nexton
Parkside Townhomes at Nexton, beautifully crafted by Pulte, are a stunning way to make our community home. Below, four reasons to make one your own!
Nexton lifestyle
When you own a Parkside Townhome, you have a whole world of fun, healthy living just steps beyond your front door. Like our collection of unique parks that include everything from wide green lawns to playgrounds to the soon-to-come dog park. Brighton Park Swim Club, which includes a 25-meter competition pool, splash pad, lawns, large deck area, covered porch and a fire pit that make it a year-round amenity. And you'll enjoy everything from outdoor concerts to kids' activities to festivals during community events. With a Parkside Townhome, you can soak in all the neighborliness Nexton has come to be known for while enjoying being part of the greater, and always charming, Summerville community.
Urban style, Lowcountry charm
Pulte's given Parkside Townhomes an energetic urban style complemented by a dash of classic Lowcountry. That means open floor plans that flow from one living space to the next and a variety of sophisticated finishes to pick from. Think: large, elegant kitchen islands, stylish pendent lighting, trendy subway tiles and timeless granite countertops. Backyards can include screened-in porches perfect for that indoor/outdoor living we love here at Nexton. Check out the Lily model for ideas on designing your townhome.
Low-maintenance living
One of our favorite things about Parkside Townhomes is the carefree lifestyle they allow. A monthly townhome association fee both maintains and insures your home's exterior. That means you can get rid of the lawnmower, weed trimmer and extension ladder. It also means you can take a spontaneous, month-long trip to southern France and know that your home is being beautifully cared for the whole time!
Location, Location, Location
Nexton is located in the path of the Charleston region's most energetic growth in what's predicted to be the region's next employment center. With SCRA on campus, the new Palmetto Primary Care Medical Campus currently coming to life, and the recently announced restaurants coming to Nexton Square, your commute very well could be by bike! We're also just minutes from the new Volvo plant and a number of additional employers. Of course, internationally renowned and celebrated Charleston is just thirty minutes away.