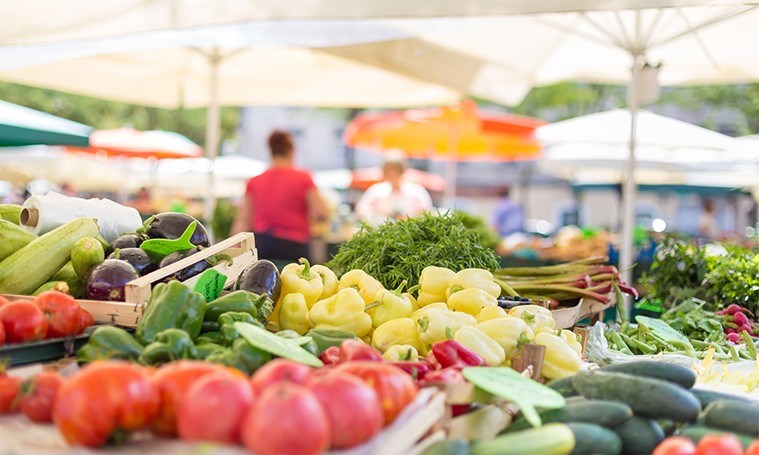 Saturday morning at Summerville Farmers' Market
There's nothing quite like a Saturday morning Farmers Market, particularly in Summerville. As usual, the air is fragrant with fresh produce, cut flowers, baked goods and kettle corn, and you breath in extra deep as you pass Hickory Bluff Berry Farm's freshly-picked, perfectly ripe strawberries. You make a mental note to plan a weekend trip to their nearby farm to pick your own.
The voices of busy vendors telling other early risers about their goods – how they were grown, prepared, or sewn just down the road – emerge through the sounds of the day's musician, whose easy rhythms have your head bobbing and feet tapping as you browse Rina's Kitchen's homemade jams and jellies. Last week's musician - Ben Somewhere – was just what you needed, and Rick Wheeler's country-vibes are the perfect backdrop for the morning.
Next up is Wishbone Heritage Farms to pick up grass-fed lamb chops for Sunday night's dinner. The St.George-based farm raises meats without antibiotics, medications, hormones, steroids, fillers, or byproducts, so you feel good about feeding it to your growing kiddos. You pick up a dozen eggs collected from their natural, sustainably raised hens. Somehow, they just taste better than what you get at the store.
One of your favorite stops, Gruber Farms, is next. Their spread is always impressive in variety and quality, and the rainbow of veggies and fruits is such a delight to peruse. A few shiny red tomatoes, half a dozen ears of corn on the cob, and a bundle of okra later, you're ready to carry on, but the cantaloupe look too good to pass up, so you add one to your basket.
The kids flock to King of Pops, for which you're thankful, actually. You've been craving the Key Lime Pie pop you indulged in last week for days. You plan to grab an easy lunch from Culinary Creations on the way out. Their prepared casseroles save you valuable time and please even the pickiest eaters.
Ravioli from Rio Bertolini's will also be on the week's menu, supplemented by a tasty new cheese from Charleston Artisan Cheesehouse. A quick browse of Charleston Spice Company's hand-blended herbs and spices reveals a new mixture you haven't tried that happens to go perfectly with lamb. Serendipity.
You really could spend all day browsing vendors stalls, sampling new flavors, and chatting with the Lowcountry's finest, but other Saturday duties call. Perhaps there's still time for a quick peak at The Flower Peddler's bouquets? You'll need a new dining room table centerpiece to admire during all these yummy meals, after all.
Love a Farmers Market as much as we do? Visit the Summerville Farmers' Market this Saturday, just minutes from Nexton, our new home community.