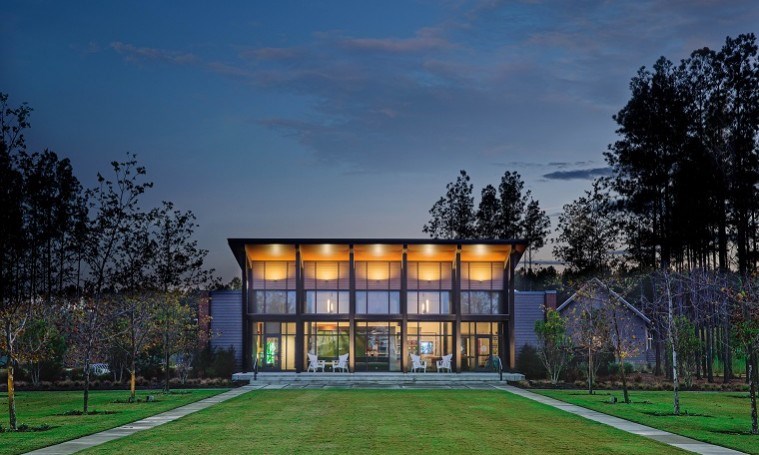 Nexton Greeting House named Best Sales + Info Center
A year ago, we opened the Greeting House with bright eyes and big plans. And since then, we've met countless people from near and far who have come to call Nexton home. Our aim was to create a warm, welcoming environment that not only educates about our growing community, but celebrates the Charleston region and that quintessential southern-hospitality that makes it such a wonderful place to live, work, and play.
Today, we're proud to share we're putting another feather in our cap: The Greeting House has been named Best Sales + Info Center by the Charleston Home Builders Association!
Here, guests are invited to sip fresh coffee, enjoy goodies made by our friends at Coastal Coffee roasters, and gather around our "kitchen" table, hand-crafted in Charleston by the folks at Landrum. High ceilings allow lots of natural light and a beautiful view of Brighton Park begs visitors to take a stroll. In our lounge area, you can kick back, recharge and even give GigaFi, gigabit internet exclusive to Nexton, a test drive.
If you haven't come for a visit, what better time than now? Schedule your visit or just drop by. The coffee's on.
---
Nexton was also recognized by the CHBA with Prism awards for Best Billboard, Best Magazine Ad, and Best Print Ad. The Parks at Nexton was awarded Best Multifamily Community of the Year. Cassie Cataline, Director of Marketing, was also named Marketing Director of the Year for her fabulous work here at Nexton.   
Since 1959, the CHBA has served as the leading non-profit organization dedicated to the future of the Lowcountry, encouraging growth and development within four counties – Charleston, Dorchester, Berkeley and Colleton. The CHBA works with organizations to promote and protect homeownership. We're honored to be recognized by them.