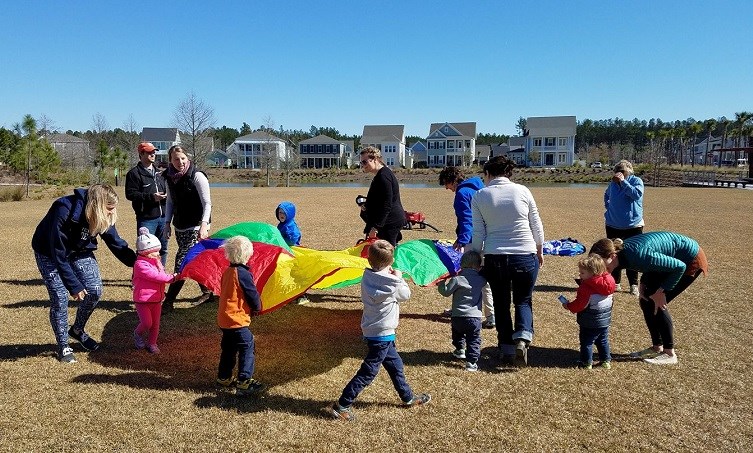 A neighborly vibe: how Brighton Park homeowners are creating community
When you buy a home at Nexton, you're buying more than just your house and lot. You're buying into the community. Into our vision of a walkable, forward-looking, Lowcountry-feeling neighborhood. Where neighbors are friends.  And community thrives. 
So how is that vision actually coming to life? What's life like beyond Nexton-sponsored events and HOA gettogethers? We see it every day when we come into Brighton Park Village. Kiddos walking to school together. Neighbors getting a run in before work starts. Chance meetings on sidewalks that turn into dinner plans. We wanted to share a little of real life at Nexton with you (you know, since you can't be here all the time - yet). Below, some of the fun things our homeowners have cooked up.
Tiny tots and preschoolers group. No one can entertain a toddler quite like another toddler. One Brighton Park parent began this group to organize fun, brain-stimulating play time for the littlest kids in the neighborhood. Pop-up play dates are posted on a group Facebook page, but there are also pre-planned events like "Welcome Spring," where the babes plant flowers, Stretch and Sing, and Pancakes and Pajamas.
Bunco. Don't worry – we had to Google this one, too. This social dice game involves 100% luck, no skill, and a simple set of rules. The perfect recipe for a game, if you ask us.  Homeowners get together each week to take their chances, all while enjoying good food, great drinks, and even better company.
Book club. We bet this book club gives Oprah's a run for her money. This year titles have included You Know When the Men are Gone by Siobhan Fallon, The Tea Girl of Hummingbird Lane by Lisa See, and Origin by Dan Brown.
Fun on the Great Lawn.  As the weather warms, we expect Brighton Park will be host to more and more games of kickball and flag football on the Great Lawn. You can catch just about every generation using the sweeping green for their favorite friendly competition, with their biggest fans on the sidelines cheering them on.
In between the ball games and play dates, dinner parties and beers-in-the-backyard abound. When it comes down to it, a culture of spontaneous neighborliness is what makes Nexton truly special community to live, work, and play. That's because community-mindedness is natural. It just needs a place to grow. That place is Nexton. Join us.