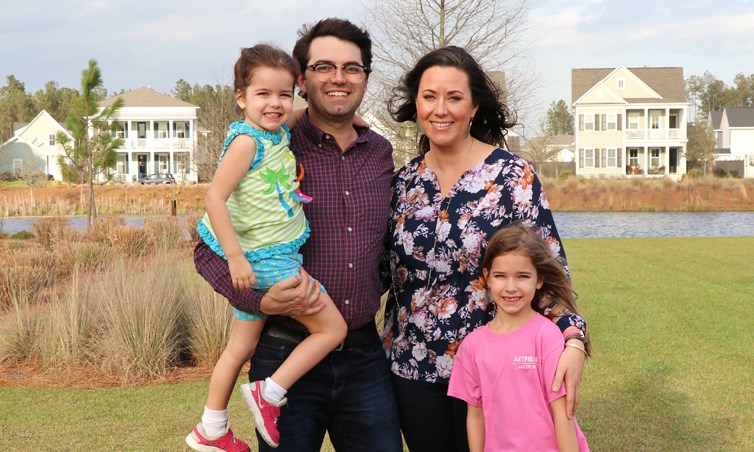 Meet the Neighbors: the Meade Family
If you're considering a move to Nexton, you probably have a lot of questions - about our builders, about our amenities, about our great schools, and perhaps about the people who actually call our bustling community home. Who better to tell potential residents about life here than the folks who can speak first hand?
Meet the Meades. The cute-as-pie family of four loves Nexton's superb location and plentiful amenities. They're also small business owners, no doubt loving the advantages of Nexton's Gigafi internet speeds. In fact, you can see some of their fantastic video work at the Greeting House! Below, a little more about this sweet family and what brought them to Nexton.
What made you decide to make Nexton home for your family?
Location was very important to us. We've always wanted to move back to the Charleston area (Kris is originally from Moncks Corner), and when we drove through the neighborhood, we knew it was home!
What lead you to choose your floorplan and builder? 
Ultimately, we felt that our builder provided an excellent build quality and we like the open layout of our floorplan. Many of the features that are standard with our home were considered upgrades with other builders, so we were glad to have them included in our home.
What feature of your home makes you most happy?
Kris: Our kitchen is my favorite because that's where we share so many memories.
Whitney: I'm happiest on our screened-in porch. We can watch the kids play, enjoy the breeze and the palm trees, and stay far away from mosquitoes! 
Tell me about your favorite park in Nexton.
We are Tall Gee fans! Our kids are growing up around that loop.
What event has been most memorable so far?
The Oyster Roast was our favorite! The weather was perfect, the oysters were delicious, and we had a blast hanging out with neighbors.
What event are you most looking forward to?
We can't wait for the swimming pool to open up again this spring!
Favorite Summerville restaurant?
We like to go to Five Loaves Café for lunch, and Italian Bistro has the best authentic Italian food in town. Plus, it's right in our neighborhood!
What is your favorite thing to do around town?
We like to spend time with friends. Most of the time, we hang out right here in Nexton. There's plenty of other couples with kids our age in the neighborhood, so most of the time, we're grilling out and letting the kids run around and play.
A fun fact about the Meades:
My wife Whitney and I run our company, the Meade Agency, together. We specialize in video production and you can catch some of our footage in the Nexton Greeting House on the video wall! 
Thanks, Meade family! We're so glad you chose Nexton.