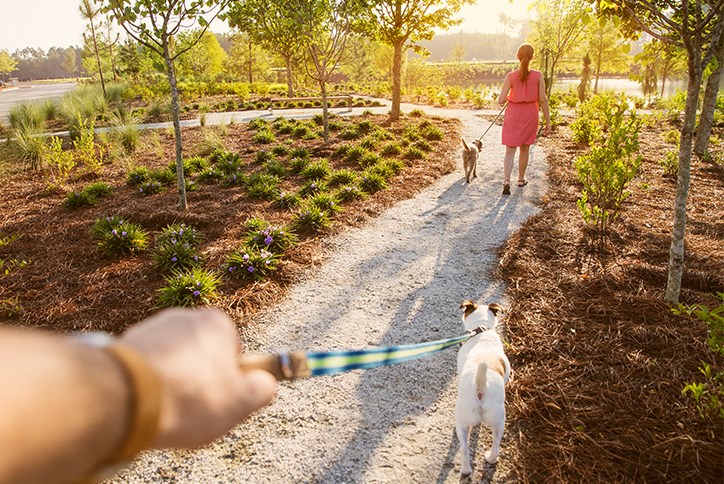 Hey, Millennial. Is your four-legged family behind your motivation to buy? Studies point to yes!
No judgements here - we would do practically anything for our furry friends too! And yes, that includes finding a pet-friendly community to call all our own. A recent study found 25% of millennials interviewed bought a home for marriage, 19% did so for their children, and a whopping 33% claimed their pet was the number one factor in their home purchase. Thankfully, Nexton's neighborhoods are ideal for everyone in the family (four-legged friends included), making a move to our forward-thinking community an easy choice all around. Below why below. 
Tails to trails
It doesn't matter if your dog is a trail runner or more of sidewalk hugger, Nexton's expertly designed neighborhoods offer off-the-beaten path trails, safe sidewalks, and sprawling green spaces for every walk, run, and game of frisbee. Enjoy a stroll around the Great Lawn, with one side featuring a winding path surrounded by trees and plantings (for sniffing, of course). On the other, a straight sidewalk path lined with stately palms. Or take a jog with your pup down Brighton Park Boulevard trail, where you can take a break at "The Folly," a shady oasis where you can rest two or four legs.
A date at the Dog Park
With the planned dog park coming to Nexton, you'll never run out of space for your pals to run and play. Safe, secure and convenient to all homes, the soon-to-be gated play area is at the top of every dog owner's home buying requirements. 
Finding fellow friends
When it comes to our pets, "friends" come in every shape and species and having them nearby is a must. With all Nexton's pet-friendly amenities, it's quickly becoming the go-to home for pet lovers. That means you'll find plenty of fellow pups to play with, while making connections with their human parents, too! Dogs - is there a better more adorable ice breaker? 
Close to what Spot needs
Nexton is convenient to nearby pet stores, animal daycares, veterinarian offices and groomers, so you'll never have to go far to get your pets the attention they deserve when they need it most.
If there's one thing we know, it's that dogs and cats - and perhaps the occasional hamster or fish - bring a little more joy to each and every day. Our builder teams are there to make your house-dreams come true, and to help you check every box on your pet's wishlist, too!