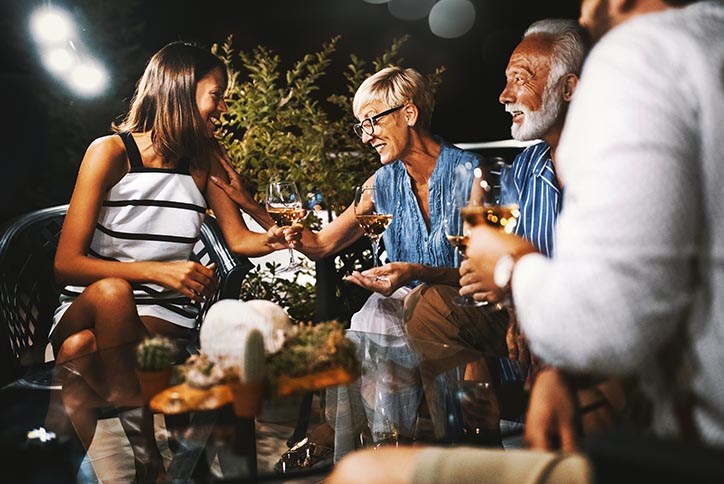 Everything old is new again: Introducing The Domus Collection by New Leaf Builders
A new style of home, designed over two thousand years ago, is coming to Nexton. Get ready for open courtyards, peaceful gardens, and wading pools. Single-story living, multiple masters, and perfectly-private guesthouses. At once fresh and historically rooted, The Domus Collection is the perfect marriage of modern-day living and enduring design. Join us in welcoming New Leaf to our exceptionally talented builder team!
The ultimate indoor-outdoor living experience.
Throughout Nexton, you'll find details that encourage and enable an indoor-outdoor living experience. After all, why live in one of the best year-round climates if you don't take every opportunity to soak it up?
The Domus collection is no exception. "Today's homebuyer wants flexible spaces with seamless transitions from indoor to outdoor living," Adam Baslow, co-founder of New Leaf Builders told us. "Each home in the Domus Collection at Nexton builds on this idea with private courtyard entrances that create a unique sense of arrival that can't be found anywhere else in the Charleston region."
The five unique floorplans, ranging from 1,420 to more than 2,500 square feet, can be customized to fit a variety of lifestyle and design preferences, but all feature a private, enclosed courtyard as the centerpiece of the home. Design it as your personal oasis. Or outfit with endless opportunities for entertaining. You choose.
Start by selecting one of five innovative home plans.
The Terrace is a 1,421-square-foot single-story home featuring two bedrooms and 2.5 bathrooms. The Terrace allows residents to live large with dual primary suites, each of which are directly connected to the courtyard space.
The Atria offers single-story and two-story floorplan options from 1,705 to 2,552 square feet with 2 to 3 bedrooms and 2 to 2.5 bathrooms. The home's expansive covered porch allows for easy flow between the indoor and outdoor spaces.
The Hortus offers single-story and two-story floorplan options from 1,822 to 2,392 square feet, both of which feature three bedrooms and 2.5 bathrooms. The Hortus' primary suite additionally offers direct access to the home's outdoor courtyard.
The Culina features two primary suites and 2.5 bathrooms within a 1,663-square-foot single-story home with a gallery hallway that extends from the garage to the kitchen. The primary  bedroom additionally features private courtyard views and access.

The Culina II is the modified version of the standard Culina floorplan. Spanning 2,242 square feet, this 3-bedroom, 2.5-bathroom two-story home offers an open living concept downstairs with ample entertaining space. Upstairs includes a loft and a primary suite with a large walk-in closet, sitting room area and a private bathroom.
Extra space for what matters to you
Each home in the Domus collection allows the homeowner to add an optional detached outbuilding to their home's courtyard. If a stylish place for storing tools, pool equipment, and odds-and-ends is just want you need, leave it as a Garden Shed.
Have frequent overnight guests or visiting in-laws who would benefit from a little privacy? Explore the Casita option. Meaning "cottage" in Spanish, casitas make perfect guest homes, complete with a bedroom, living room, kitchenette and a full bathroom.
Or find a happy in-between spot with a Cabana, an add-on that makes courtyard entertaining even more spectacular. A living room, kitchenette, and full bathroom will compliment a backyard already poised for weekend gatherings or every day indoor/outdoor living.
Intrigued? We thought so. Learn more about New Leaf Builders' Domus Collection by starting here.