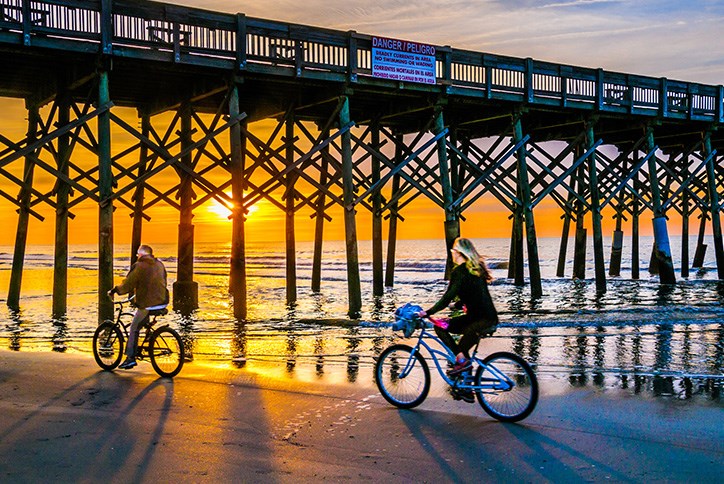 Escape winter in Charleston
A few days after ringing in 2018, Charlestonians were baffled as a crystalline powder fell from the sky, coating palm trees, flip flops, and Yeti coolers with nearly 5 inches of white fluff. A snow fall…in Charleston? The last wintry precipitation that amounted to anything at all occurred nearly 30 years prior.
High temperatures in January usually hover around 60 in the Charleston region, making the annual New Year's Day "Polar Plunge" more like a revitalizing dip than the bone-chilling events of more northern cities. Big box stores sell swim suits year-round. And while winters see our less geographically-fortunate neighbors strapping on layer upon layer each time they brave the outdoors for a little fresh air, it's not unusual for people in the Lowcountry to be in short sleeves by midday any given day of the season.
Love dining al fresco? A light sweater ought to be enough to keep your shoulders warm. Crave one-on-one time with nature? Winter walks through parks and trails are oh-so-pleasant any day of the year. Golf, pickleball, touristing through historic Summerville and downtown Charleston, marveling at the gardens on the grounds of centuries-old plantations, and putting away mounds of just-steamed oysters…all excellent ways to soak up the US' #1 city in the winter months. Check out a sampling of our favorite things to do throughout Charleston in the less-busy season.
Located on the Southeastern coast, Charleston has a subtropical climate. You can expect hot and sultry summers paired with mild winters, with distinct transitional seasons. So lovers of spring floral palettes and pumpkin-spice flavored falls – never fear, you'll get to enjoy the in-betweens, too! And, because of the city's coastal location, we get a nice breeze year-round.
Traveling to our fair city? Bring an umbrella, just in case. Charleston surpasses the national average in both sunshine and rainfall. Annual rainfall for the city comes to roughly 48 inches compared to the standard 39 inches in the United States (that's how things stay so green). But it's balanced out nicely with plenty of sunshine. We see an average of 209 sunny days each year, while the rest of the country averages 205.
If you're ready to trade-in your snow shovel for a healthy supply of sunscreen in a more permanent way, come explore Nexton. Plus, we currently have over 30 move-in ready homes if you're eager to skip this year's snow and ice. The beach and green trails are calling your name, and there's no waiting for Memorial Day for the pool to re-open…we'll be diving in come April!