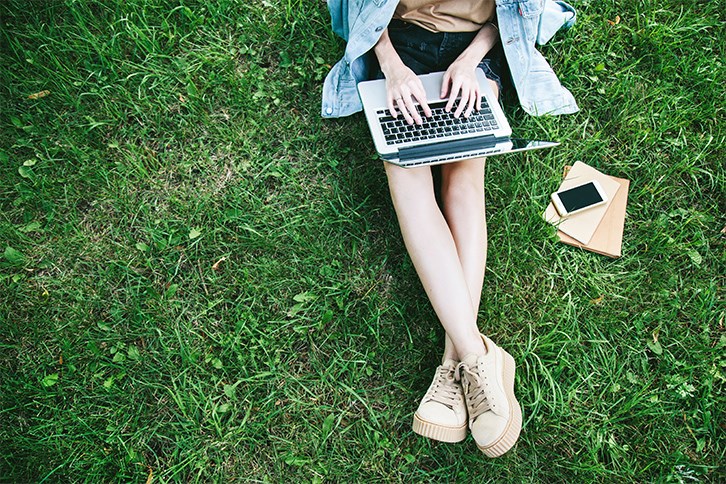 Work from home = Work from anywhere. Our picks for workplaces around Nexton!
Here's the thing about working from home these days – for most people, all it requires is a solid internet connection and a laptop. If you're itching to escape the four walls of your office space, and you're lucky enough to call Nexton home, we have several places you can catch some rays, a cool breeze, and knock out a few hours of hard work. The best news is that they're GigaFi connected, so you can keep moving at the speed of life without any interruptions to your connection.
Encore Park
Affectionately nicknamed the "bumpy park" by a handful of residents, Encore Park is most notable for its unique landscape. Five acres of rolling lawn - complete with plenty of mini-hills for intentional tumbling and frolicking - are surrounded by meandering trails. On one end, a spectacular kids play space and picnic tables. Saddle up to one of the tables, let the kiddos run free, and enjoy a few good hours of working-from-the-park in the sunshine. A great way to multi-task!
Brown Family Park
You can choose the tables and chairs, a blanket under a shady tree, or even an empty stage if you choose Brown Family Park as your workspace-for-the-day. Your eyes can also get a screen-break enjoying the company of passing pups (it's a popular place to walk dogs) and an abundance of birds that call the park home. And when it's time for a break, let your nose lead the way just over Rose Drive to Nexton Square, where pizza, sushi, or a caffeine-and-donut-pick-me-up await.
Inspiration Park
A peaceful place to knock out a few hours of work along a quaint pond. A favorite of our feathered friends, Inspiration Park is characterized by freshly planted trees (which will be providing lots of leafy shade come summertime) and a newly paved walking path. This is our pick for your next walk-and-talk meeting. Put in your headphones and stroll while you listen in on that weekly con-call. Adding a few thousand to your daily-step count is a bonus!
The Great Lawn
Situated adjacent to the Greeting House in Brighton Park Village, the Great Lawn is just that. A really, really great lawn. With a vast amount of open space to run, play, relax, picnic… and spend a few working hours. If grass doesn't suit you, tapered steps down to the pond are a great place to perch. And a shady pergola with beach seat is also an inviting spot. When you're seeking a little inspiration, gaze across the pond to the mini-island. It's frequently visited by snowy egret's and blue herons. Feathered friends are always a welcome sight!

Nexton Square
The not-so-square park in the center of Nexton Square (it's actually a triangle) is an easy choice for working outdoors - picnic tables, palm trees, and the energy of a vibrant community. Warning: you will end up gazing longly BKeDSHoP. You will pop in quickly to get some coffee. You will realize you really, really need a salted chocolate donut to go with it. It will be the best decision you make that day. Totally, absolutely worth it. 
Brighton Park Swim Club or North Creek pool
Positive reinforcement – it works! Why not try it at one of our community pools? Here's how: bring your laptop and determination. Set a goal (2 hours of work, complete a project, submit a proposal, etc.) and reward yourself with a cool dip in the pool when you've reach it. The glimmering blue and occasional plunge by a neighbor will keep you motivated and focused on finishing the task so you can get to a little fun.
These are just the tip of the iceberg when it comes to parks at Nexton - because there are 46 of them. Really! Chances are, your Nexton home is in view of a community park (or two). 
When you're longing for a day outside, but still need to keep to the daily grind, GigaFi's got you covered. Just don't forget to pack your sunblock along with your laptop.