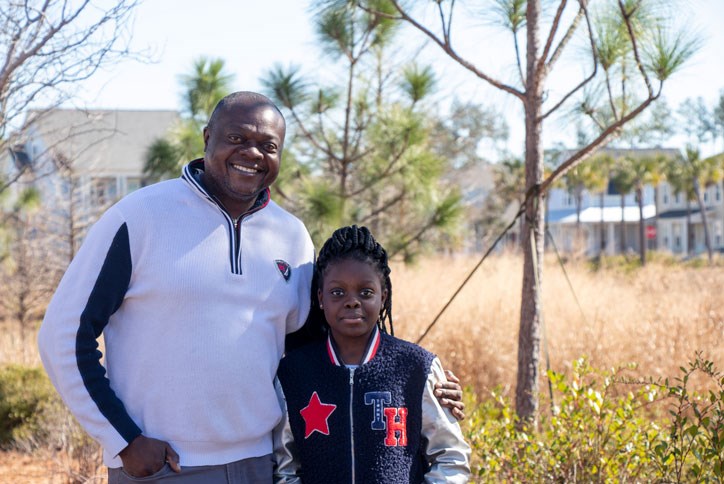 Meet the neighbors: The Poshi family
At Nexton, it's the people that really make our new homes community a special place to live. So we're telling you about the people who call it home right here on the blog. After all, who better potential residents about life here than the folks who can speak first hand?
Meet the Poshi family. If you run into them around Brighton Park Village, you could greet them with Hello, Bonjour, Jambo, or with at least half a dozen other languages. The multilingual family finds themselves in the Charleston region via Seattle, courtesy of Boeing. After years of renting, researching, and reviewing their home-buying options, they've settled at Nexton. And we couldn't be more pleased to have them here! Below, a little more about this sweet family and why they chose Brighton Park Village.
What brought you to the Charleston region?
Before we moved to Charleston, we lived in Seattle. Even though we have moved around with Boeing, most of our time was spent on the West Coast. We didn't have a sense of the culture or beauty of the south. When we first came to Charleston, we rented for a year to become acquainted with the area.
What made you decide to make Nexton home for your family?
Around 2013, Nexton was in the first phase. And honestly, we decided it wasn't for us! We had our hearts set on a brick house. In all the communities and neighborhoods where we home shopped, we were disappointed with the quality of the homes. Eventually, our agent told us to actually go into a Nexton home – not just drive by!
When we went inside, the first thing that became apparent was the quality of the homes. That was very different than the houses we had visited in other communities, and it's what sold us on Nexton.
We've also loved the sense of community. We feel like we belong here; we're not just living here.
Tell us about the home and builder you chose.
We had very specific desires in a floorplan – we wanted more than one sitting area and an in-law suite for our parents. One day Rob with Pulte called and said, "I have a new plan for you!" The price was right, and the rest is history.
Anything else that nudged you to Nexton?
We enjoy the paths and trails. We can do a full workout routine in a matter of minutes. And everything is here – bike, drive if you want. You can do everything you would in downtown Charleston without having to actually be downtown. Plus, my daughter loves being able to walk to school.
What feature of your home makes you most happy?
Like I mentioned, we wanted two sitting spaces so that the kids have their own place to play, watch movies, play games. And we essentially have two master suites, so that when our parents visit – or if they move in – we'll have privacy for them and us. And my wife loves the kitchen!
Our backyard also has this incredible breeze that flows perfectly between the house and the garage. I love to sit out there and enjoy it.
Tell me about your favorite park in Nexton.
The kids love the play equipment behind the Greeting House. It's a good playground, and we feel safe when we take the kids over there. We can tell the people who planned and built it had their own kids in mind. There's a high level of quality and thoughtfulness in the design.
What is your favorite thing to do around town?
When you live in Summerville, you're 25 minutes to downtown, and 35 minutes to a beach. You get the benefit of being outside of the big city in a small community but you're close to all the action in Charleston when you want to be a part of it.
A few fun facts about the Poshis.
We love to go to the beach. We take a lot of three-day trips to Myrtle. We love to read. By the end of this school year, my daughter will have read over 600 books.
We love to travel. It's easier for me to count the states and countries we haven't been to – still missing Alaska and Tennessee. In Europe, we haven't managed to get to Portugal or Greece. We've visited many places in Africa with the exception of some countries like Morocco and Algeria. We're from the Democratic Republic of Congo. We speak English, French, and Swahili at home. I speak 7 languages, and my wife speaks 5!
Thanks, Kalumba and family! We're so glad you chose Nexton.