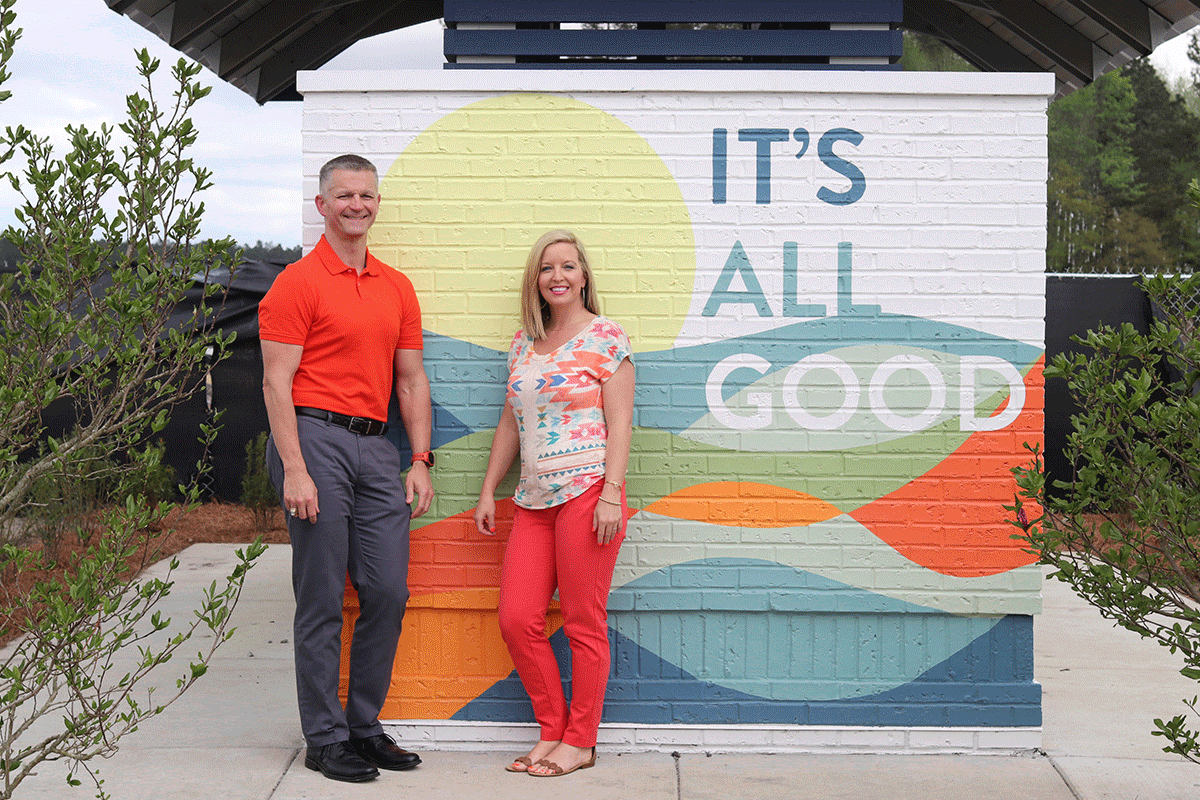 Introducing Bo and Alicia: Two more award-winning reasons to love Nexton
If you're looking for the best burger and fries in the tri-county area, Bo is the guy to talk to. Be prepared for a beefy conversation on the pros and cons of house-made buns and whether mustard belongs on a burger (hint: not exactly frowned-upon, but hotly debated). He also happens to be a pro at sharing information about moving to and living in our award-winning Summerville community. Those conversations are beefy, too – especially if you're a Realtor. Bo's cultivated personal relationships with our ever-growing real estate agent community, and is always available to share the latest and greatest from Nexton with area brokerages. He even has an Instagram handle dedicated to this effort. Are you an agent? Give him a follow!
Bo is nothing if not passionate - about everything he does. And it's part of why he's such an exceptional representative for Nexton. If you've encountered him in the Info Cottage, you'll no doubt remember his special blend of knowledgeable-and-friendly. Not doing in-person meetings or tours? He's got you covered. Set up a Facetime, give him a call, or shoot us a message.
In fact, if you've messaged, emailed, or dropped by Nexton in the past few years, it's likely you've already spoken to him – or to Alicia, his counterpart at the Info Cottage.
Alicia is a Nexpert, too (get it? Nexton expert?), with a deep understanding of Summerville living. She's called our charming town home for decades, spent years working for the Summerville chamber, and now devotes her days to telling the Nexton story in the most adorable southern accent you've ever heard. Seriously!
Her background makes her ideal for connecting with new or expanding companies in the Charleston region. For example, when Thorne Research decided to relocate from Omaha to Berkeley County, she was in contact with their HR department, arranged tours for employees who were relocating, and hosted happy hours at Nexton for their team.
If you're in HR, you'll want to connect with Alicia. She can hook the employees of your growing business up with a wide range of housing options including temporary housing at Residence Inn or Homewood Suites, a longer-term rental apartment, townhome or cottage. And of course, a vast array of for-sale single family and townhomes in one of our three neighborhoods.  You may even get her to bring some fun desserts to your office team to share her passion for Nexton. 
We would be remiss not to include Barbara, our weekend-warrior at the Info Cottage. She likely sees more prospective homeowners than anyone, so her contributions to Nexton can't be understated. Genuine southern hospitality comes natural to Barbara, and she's amassed a vast knowledge of Nexton over the years. She's a gem. Truly.
Drum-roll please
We've been keeping a secret. A few months ago, we shared Bo and Alicia's efforts with the Charleston Homebuilders Association's PRISM award committee. And they agreed – we have a phenomenal team! Congratulations – and a HUGE thank you – for scoring Nexton PRISM awards for Best Community Outreach and Best Company Outreach.
You're all rock stars, and we couldn't be more grateful to have you on our team!