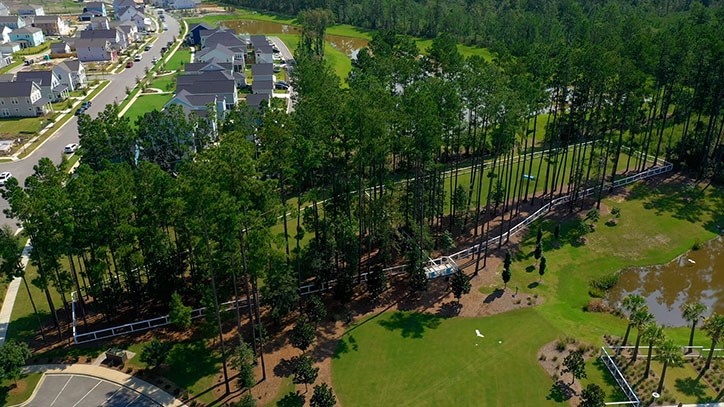 Bark if you like parks: the 411 on Brighton Park Dog Park
At Nexton, we believe that friends and family come in all shapes and sizes, and often have fur.

And even the furriest ones deserve a great space designed with them in mind. That's why you'll find a variety of home styles, home sites sizes, and even special upgrades available from our builders to ensure Bella and Tiger love living at Nexton as much as you do. 
Those of the canine persuasion particularly love the Brighton Park Dog Park, available to all Brighton Park and Midtown Residential Association owners. 
Like our human-centric spaces, everything in the dog park was carefully considered. Grant Brown and his team were the brains behind the project, so we went straight to the source to find out how the park became the pawsitively amazing space it is today. 
"It's not worth spending dollars if it's not going to be truly enjoyed by the residents and their fur babies," Grant shared, noting that some communities put up a fence around a patch of grass and call it a day. 
But this is Nexton, and you know we're what some might call a little extra. A dog owner himself, Grant knew he needed a sizable piece of land to make a dog park large enough to accommodate pups big and small, and give both enough room to work out the zoomies. A chat with Santee Cooper secured the unbuildable space under the power lines as desirable doggy destination.  
"We were excited to be able to utilize that space and make it something that's enjoyable, usable, and aesthetically pleasing," he said.
Brown and his team played off the existing foliage and created two zones - a long, open grassy field beside an expanse of shady pine trees, allowing dogs and their BFFs some much needed shade on sunny days. On one end, a very important doggie and human water fountain reduces owners need to pack water for both themselves and their furry friends.  
On the other end, play tubes catch the eye and the attention of all dogs who venture in. And there is a story behind them too. During construction, a lot of round concrete pipe (RCP) is returned if it does not work for the project. Brown saw this as an opportunity to recycle material that otherwise wouldn't have been used. The RCP is sturdy enough for dogs to run on top of and through. It also adds some undulation to the park landscape. And most importantly, the dogs love it. 
At the end of the day, Grant is proud of the balance between simplicity and ingenuity in the space. 
"It's very easy in any finite space to be convinced that you have to have a lot of bells and whistles, and things get very crowded quickly," he said. "The dog park has everything a dog and their owners need for a pleasant and satisfying off-leash adventure."
And if wagging tails and doggy smiles are any indication, Brighton Park Dog Park is a fan favorite among the four-legged. Check it out in the video below!
Seeking a new home for you and your furry loved ones? Nexton may be the purrfect place. Drop by the Info Cottage (doggies welcome, of course) to get started!