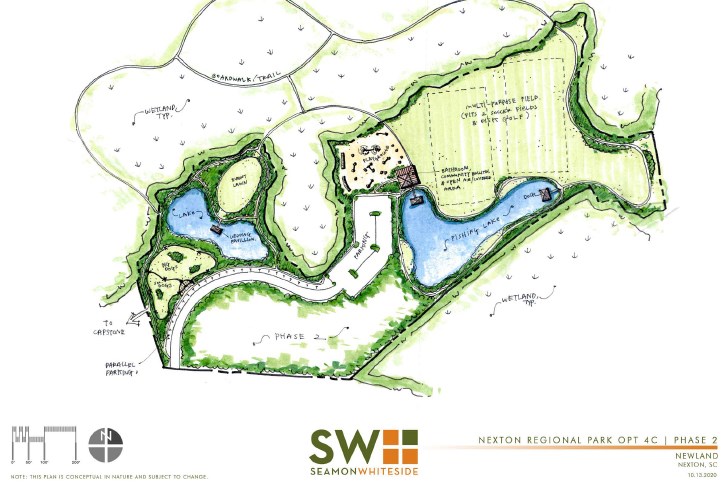 Meet the New Berkeley County Park Coming to Nexton
What makes a great county park?
Some say ample space for sports like soccer and kickball, plus kids' play equipment for a variety of ages.
Others long for ponds for throwing in a line, catching sight of a heron or two, or simply strolling along the banks to the soundtrack of tree frogs and bluebirds.
And many would like to see a place for events like weddings, concerts or food truck rodeos, that allows attendees to take-in our unique Lowcountry setting.
We couldn't agree more – with all of it. That's why we're delighted to share a first glimpse of plans for Berkeley County's newest park, located right here at Nexton. Read more below - and glimpse the preliminary sketch above!
A multi-purpose field for all your purposes …and a playground
When we asked our friends and neighbors what they'd like to see in a new county park, an area for community sporting events, like soccer or flag football, was amongst the most common requests. And we are happy to oblige. The new park will features green space capable of holding soccer games, flag football, and disc golf. The recreation fields will be flexible to allow all manner of sportiness to take place within.
Nearby, a convenient pavilion with restrooms, picnic area and playground are in design. You'll find the usual suspects like slides, swings, and climbing equipment, along with a few quirky surprises (this is Nexton, after all). Stay tuned for all the fun-inspiring details!
Waterside fun to come
We hear you Nextonians, you like to fish. We're working on making a special place to cast a line, catch a breeze, or taking in the sights.
A bark park for big and small
We'd never leave your furriest family members out. A new dog park provides a spot to chase balls, catch frisbees, or simply relax under a shady pine.
See it all via the trail
All this new park goodness is surrounded and connected via a network of trails. Start at the parking lot and loop around the large lake, multi-purpose fields, and into the preserved wetlands, to allow exploration of the natural Lowcountry landscape while keeping feet dry and wildlife undisturbed. Finish your stroll by circling the event lawn or the dog park. Or do a few loops to catch it all.
There's so much to see. We know you'll be back. Again and again.