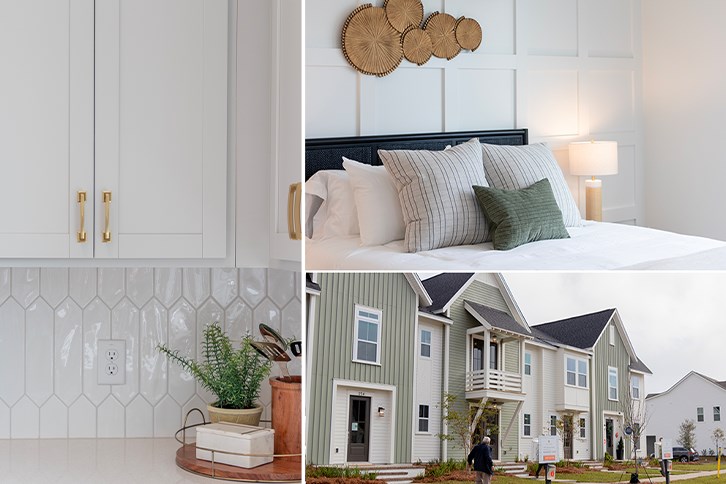 We've put a bow on your new Saussy Burbank Townhome
If we looked hard enough, we could probably find a pretty red bow sufficiently large to suit one of Saussy Burbank's new townhomes. That way, living in one of these thoughtfully designed townhomes will both feel and look like a gift. 
More time for living
For starters, owners will love the gift of time they receive by calling a Madison, Union, or Broadway design their home. Like all Nexton townhomes, exterior maintenance is taken care of thanks to a modest regime fee. 
That means you can lock-it-and-leave while you escape for a few weeks on the Riviera each summer, take a long vacay to visit your parents in New York over the holidays, and rest assured your grass won't be overgrown and bushes unruly when you return from an extended work trip overseas.
Carefully considered details
The aesthetics of these homes are a treat for the eyes, too. Saussy Burbank is known for their expert craftsmanship that perfectly blends rich architectural style with modern building techniques. Inspired by the Lowcountry and the details in historic homes, a closer look reveals  an attention to detail that adds interest and depth. Think: thicker trim, subtle texture, exposed rafter tails. 
Ever look at a house and it just feels well designed, but you can't put your finger on it? That's a Saussy Burbank home, and their townhomes are no exception.
All the accouterments, none of the waste
Buying a Saussy Burbank townhome means you'll get all the benefits of a single family home - a garage, back porch, perfectly-sized-yard, as well as a spacious interior that lives big without any wasted space. And less wasted space also means a smaller environmental footprint and lower utility costs, allowing homeowners the freedom to spend their time and dollars in other ways. The gift of utility savings keeps giving all year long!
The floor plan allows each space to feel unique and purposeful while preserving the openness desired in modern homes. And each design offers something unique to appeal to all family types. Would you like 3 bedrooms or 4? Three and a half bathrooms or is less-to-clean truly more? And perhaps most importantly: will your owners' suite be upstairs or down?
Outback, covered porches that can be screened in and just-enough yard space for BBQ, outdoor eating, and even a fire pit are also included in every townhomes. Dogs and kids will have space to stretch out, too. Is a baseball glove on their wish list this year? You'll have the spot for playing catch.
Bonus: close to the best of Midtown Nexton
What will you do with all the time you save not mowing grass? Try spending it poolside at MIdtown Club, learning a new sport at the Pickleball Courts, or hitting the trails for a relaxing run along the neighborhood ponds. It's all just a few blocks from your new home. 
Come explore this weekend. We'll start searching for that oversized bow right now!