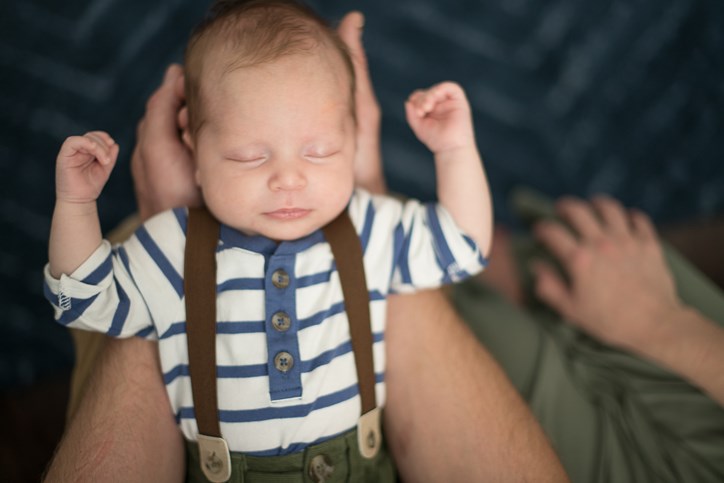 Extra special delivery: Meet Shelton
No matter how you celebrate, the holidays are ultimately a time for togetherness and gratitude – a time to spend with those who are most important. We recently chatted with Jordan and Justice Murphy, who were able to spend Christmas this year with their new bundle of joy, baby Shelton. Born in November, Shelton is the first child conceived thanks to the help of Coastal Fertility Nexton. After four years of trying to conceive unsuccessfully, the Murphys decided to visit the clinic's North Charleston, where they met Dr. Jessica McLaughlin.
"She was very thorough, answered all of our questions, and made us feel comfortable," remembers Justice. "It was at that very appointment we decided to move forward with our IUI journey. That's how comfortable we felt with them. They took so much stress off our shoulders in just one appointment."
As residents of Moncks Corner, the Murphys quickly realized that commuting to Coastal Fertility's North Charleston and Mount Pleasant offices multiple times each week would put a significant strain on their schedules and their lives.
"The Nexton office opened a short time later, and we were then able to do everything there – all of our appointments: labs, ultrasounds and our IUI procedure," said Justice. "It allowed my husband to be present at more appointments."
Not only did Coastal Fertility Nexton's location improve the ease and convenience of treatment, but the clinic's staff and personal touch helped make all the difference.
"I was driving to the clinic about every two days at the beginning so they could monitor my progress, so I was seeing their staff frequently. It didn't matter what time of day it was, you never felt like a stranger walking in. It was a good feeling to have that kind of consistency on this exciting and scary journey."
The Murphys scheduled their IUI procedure for March 4, 2021.
"That was the day that changed our lives forever."
Now at 2 months old, baby Shelton and his parents are keeping busy settling into their new routine – although their schedule may include a bit more coffee and fewer hours of sleep than before!
"If I could talk to couples living in the Summerville area, I would tell them to make that first appointment with Coastal Fertility in Nexton. I wish we would've gone sooner. Let them
help you start your family. You won't regret letting this team into your life."
Congratulations to Justice and Jordan, and welcome to the big, wide world, Shelton!