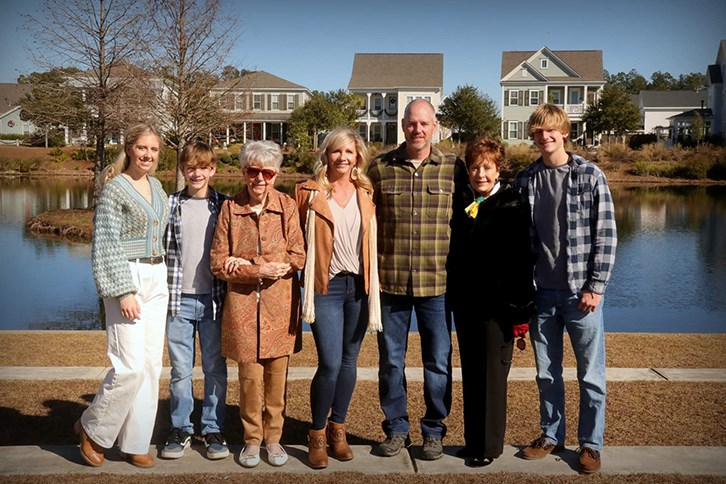 All in the family: Three generations of Thorns call Nexton home
Mark and Jennifer Thorn don't have to go far to find the familiar faces of family. In fact, a hug from mom or a coffee with their college-age daughter is just a quick golf cart ride down the street. In Nexton, three generations of Thorns have found all they need to thrive.
Brenda Thorn fell in love with Charleston and first moved to the city in the early '80s. Isle of Palms and Mount Pleasant were home for a while, but after a stint in Atlanta, her son Mark suggested she and her late husband consider moving to Nexton because it was so close to his family's Summerville home. Mark and his family weren't living in Nexton - yet - but thought it would be a great place for his parents. 
Brenda agreed. "I just love the whole concept of Nexton and the location of our home. I've always lived near the water, and now I have a beautiful view of the pond and the Great Lawn." 
Just two years later in 2018, Nexton's convenience and promising future captured Mark, Jennifer and their kids. And Brenda was keen on helping find the perfect location for Mark's families' new home. "When they started talking about moving, our grandsons had some 'must haves'. The youngest said he just had to be close to the pool, and the oldest wanted to be able to go fishing. The sales office found the perfect site where both boys got what they wanted," Brenda said.
For Mark, nothing could beat Nexton's easy access to I-26, and the plans for Nexton Square and  Midtown made it even more appealing. "Our low-speed vehicle rental business, Lightning Bugz, has grown from a seasonal to a year-round service, so being able to quickly get to any other area of the city is a huge benefit," said Mark. "You're close to the interstate, but you don't feel like you live on top of it."
Jennifer enjoys the security of knowing her loved ones are close by, particularly now that her mother, Patti, lives with the family in their FROG (finished room over the garage) so that she can receive full-time care.  "It's just nice to have them near so that we can take care of them if we need to," Jennifer said. "And it makes the holidays a lot easier!"
Even downtown campus life could not compete with the comforts of Nexton for 19-year-old Haley Thorn. After a half a semester at College of Charleston's Sterling Campus Center, she realized that a townhouse near her family offered the independence she was ready for with just the right amount of support, like help with her dog when she has long school hours or a late shift at Hall's Chophouse. And she says this even helps keep her social connections strong. "Being just half an hour closer to my friends at schools outside of Charleston makes a big difference when I travel to visit them," she elaborated. "And when they come here, they know there's always a place for us to be."
No matter what stage of life, being able to spend precious time with family and friends makes like just little bit better, and as the Thorns have discovered, Nexton is where it all comes together.