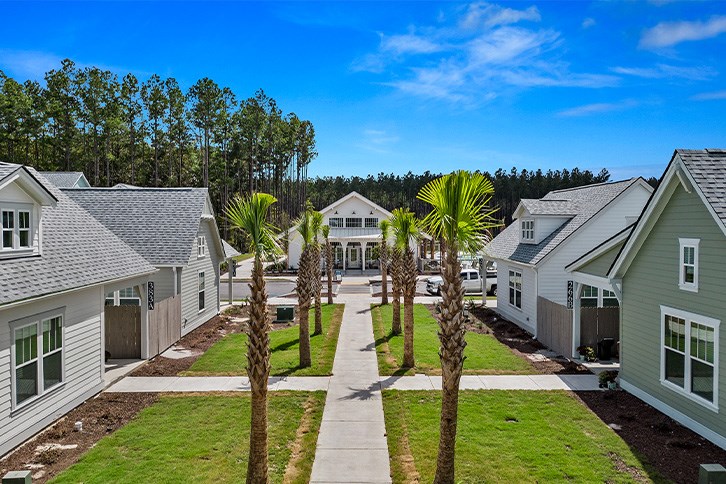 Single-family homes for rent, Nexton style
You have a conundrum. You want to call Nexton home, but you're not ready for the dive into homeownership. And while the apartments look nice, you'd really like some space to spread out. Maybe a little private yard space for your pup and your kiddos. Access to a great pool, a sense of community, and all that technology-meets-nature goodness you keep hearing is happening in Nexton. 
Good news: we have your answer. Introducing The Villas at Nexton, our first low-density multi-family development. In other words, a friendly community of single-family homes for rent! Walkable and urban-inspired, the 282-unit community includes sidewalks, pocket parks and open green spaces that create a true sense of place for its residents.

Options in your rental home
At Villas at Nexton, you can choose from a mix of 1, 2, and 3 bedroom carriage homes, lofts, twin cottages (like a duplex) and stand-alone cottages. Each features top-of-the-line finishes inside and 10 – 12 foot ceilings that let these homes truly live large. Plus charming, Charleston-style exteriors, some with wide inviting front porches and just-big-enough yards and patios.  
In addition, all home have smart home technology compatible with Google Assistant, Amazon Echo Dot, and Amazon Fire TV Stick. 
A bundle of amenities
Residents can enjoy an expansive resort-style pool and convenient clubhouse with large televisions and even community computers. There's a 24/7 state-of-the-art fitness center that includes treadmills, stair stepper, ellipticals, dumbbells, peloton bikes and multiple strength machines, so you can skip that gym membership and get your workout done just a few blocks from home. And a Bark Park for your furry friend will allow him to indulge in some off-leash play time!  
Close to everything you need and want
The Villas at Nexton are located just off Grand Boulevard, which can be accessed via Nexton Parkway in two locations. The homes are a quick 5 minute drive to Nexton Square and future shopping and dining destinations at Downtown Nexton and One Nexton, as well as the myriad of business parks popping up across the community. Midtown retail will soon be just a few blocks away, and a new Berkeley County park will open along Grand Boulevard in the next few years.