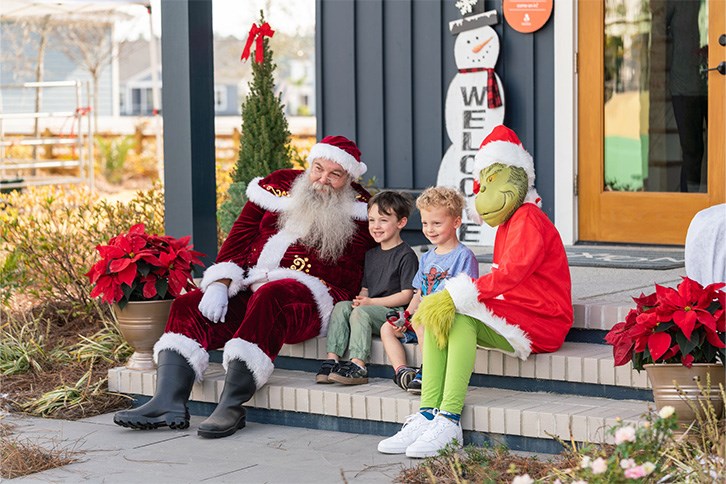 Nexton Traditions: Winter Edition
Is it November already? As they say, time flies when you're having fun, and 2022 has been a blast at Nexton! This holiday season promises to finish off a fantastic year with good friends, great food, and lots of cheer!   
First up: turkey day. Whether your spread is classic or more plant-based, we love seeing our Nexton residents gather and gobble with their nearest and dearest. If your holiday jolliness is enhanced by less time in the kitchen and more time connecting with friends, don't forget to see what the restaurants in Nexton Square are prepping on your behalf. New York Butcher Shoppe is now taking orders for turkeys and sides. An easy and delicious Thanksgiving? Count us in!
We'll be parading in more holiday cheer on December 9th with our annual golf cart parade and tree lighting. But heads up: we're mixing things up a bit this year. The parade will be limited to Nexton residents only and the route will be from the Great Lawn in Brighton Park Village, along Nexton Parkway, ending at Midtown Club. No cart? No problem. Join in anywhere along the parade route with any non-motorized vehicle. If you're a resident (lucky you!), please reach out to the POA for details.
Don't live here...yet? We still want to celebrate with you! Meet us at Midtown Club at 7 pm for a tree lighting ceremony, food trucks, kids activities, and more holiday hoopla. 
Then, on December 17th, we're looking forwarding to cheering on (and sipping with) friends at the 9th annual Cocoa Cup 5k. This year's race is going to be a big one, with 3,000 race spots available - the most ever.
The race is already sold out, but as always, you're invited to cheer on the runners and enjoy the holiday festivities. Santa himself will be in attendance to meet your littles and snap a few photos, and he's bringing along the Mrs. and a few elf friends. Dress in your most festive holiday gear and enter the costume contest. You could win some great prizes! The fun is happening in Brown Family Park, per usual. Mark your calendars and plan to come out!