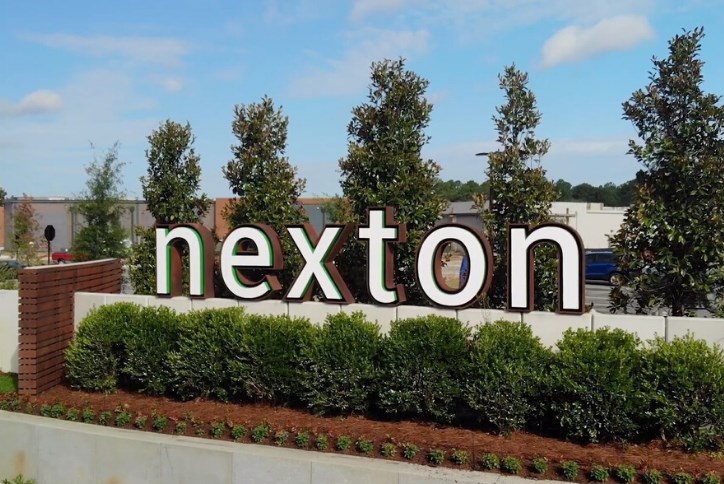 Nexton's Residential, Commercial Developments Drive Record-Breaking 2019
SUMMERVILLE, S.C. – January 21, 2020 – Nexton, the most innovative and walkable community in South Carolina, experienced record-breaking growth in 2019. With a growing presence that includes cutting-edge office space, new residential and hospitality offerings and dining and retail options, the community is positioned for further success on all fronts.
COMMERCIAL
Nexton's 2019 commercial growth confirmed its emergence as Charleston's newest regional employment center. The following highlights the community's commercial milestones in the past 12 months:
CoOp@Nexton: Groundbreaking of the first high-profile commercial parcel in Nexton's Parkway District. Launching the community's commercial corridor, CoOp@Nexton will host several commercial businesses in addition to a mid-rise multifamily community, gas station and market.

The Offices at Nexton: Approximately two dozen new occupants leased flexible and long-term office space at the community's regional business center. The companies encompass a variety of sizes and industries, including federal contractors Akima and Dassault Systèmes.

Mercedes-Benz Sprinter Van Dealership: Groundbreaking of Baker Motor Co.'s $10 million Mercedes-Benz Sprinter Van dealership. The 28,600-square-foot showroom and sales gallery will be South Carolina's only exclusively authorized dealership.
RESIDENTIAL
Nexton's strategic vision to increase housing diversity was illustrated in 2019. A benchmark year for housing development, the following highlights Nexton's residential milestones in the past year:
336 homes sold in three residential villages including Del Webb Charleston at Nexton, North Creek Village and Brighton Park Village

264 multifamily units released in Arrogate Village Apartments

Centex: Nexton introduced its latest addition to North Creek Village, with 357 homes by Centex

Phase 6: Brighton Park Village's last residential phase opened in 2019
RETAIL + DINING
Nexton Square, Nexton's highly anticipated destination retail center, celebrated its grand opening in June. Nexton Square offers a wide mix of dining, shopping and services including Taco Boy, Halls Chophouse, Trident Dentistry and local boutiques for the community's growing number of residents, visitors and employees. Nexton Square expects to offer more than 20 retailers, dining options and entertainment venues in 2020.
Page's Okra Grill additionally announced plans for a 10,000-square-foot Nexton location, expected to open in fall 2020.
LOOKING AHEAD
As a national model for mixed-use development, Nexton's master plan incorporates premiere office, best-in-class shopping and dining and diverse residential options.
"This thoughtfully designed environment provides a destination where people can enrich their lives", said Nexton's Vice President and General Manager Brent Gibadlo. "2020 will bring increased realization of the master plan and a wide array of options to the market."
Located in the heart of the OEM Corridor, Nexton's proximity to the area's largest regional employers, such as Volvo Cars, Mercedes Benz Vans and Boeing, will continue to accommodate the regions employment growth. Upon completion, Nexton will offer over 8 million square feet of commercial space.
Beginning in 2020, WorkPlace@Nexton will welcome its first tenants. The office destination includes a 30,000-square-foot garden office in addition to six buildings ranging from 3,500 to 5,000 square feet, all of which are located near childcares, parks, trails and retail.
With a heightened focus on expanding hospitality offerings, the community has three additional hotels opening in 2020. Homewood Suites and Hilton Garden Inn are currently accepting reservations for April 2020. The two are connected by a 10,000-square-foot conference center which will hold events for up to 1,500 people, making it one of the largest convention facilities in the Charleston-metro area. The Cambria Hotel Summerville will also open in spring of 2020.
###
About Nexton
Nexton is owned by a business entity of North America Sekisui House, LLC (NASH), and is developed by Newland. NASH and Newland share a deep commitment to sustainable development practices and apply these core values to the vision, planning, and development of their projects. Nexton is one of more than 20 assets the NASHNewland partnership owns and manages together across the US. newlandco.com | nashcommunities.com
Editorial Contact:
Cassie Cataline
ccataline@newlandco.com
843-708-8504
Media Contact:
Lou Hammond Group
Kelsey Donnelly / Parker Butler
nexton@louhammond.com