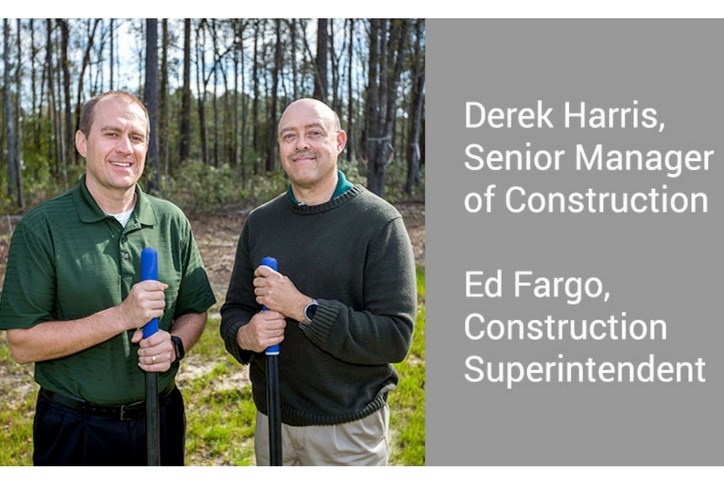 Meet the Team: Ed Fargo & Derek Harris
In a reoccurring blog series we've met the design and development team behind Nexton. This month, we caught up with Ed Fargo and Derek Harris, two members of our phenomenal construction team.

Tell me about your role at Nexton.
Derek Harris, Senior Manager of Construction: We help oversee the development of Nexton's infrastructure - coordinating new roads, preparing home lots, and managing the creation of the park system that streams through Nexton. It's important that we have the right vision on paper before we execute, and that we can see that vision come to life as we build. We help make sure everything is held to the Nexton standard. For example - right now we're actively designing layouts for future phases - Nexton Town Center in particular. We're coordinating future roadway systems so that driving or walking to your destination is a breeze. The details will help with traffic flow, and also contribute to the modern, efficient aesthetic we're dedicated to here.
Ed Fargo, Construction Superintendent: I'm more of the "boots on the ground" person. Like Derek said, the details are important, so I'm out there every day ensuring we do things right the first time. This can mean everything from inspecting home sites, to ensuring worker safety, to walking sidewalks to confirm they are installed correctly. Seventy percent of all the work we do in the development side of things are things that aren't seen. They are below or related to ground. There is a lot of work that happens before you get to drive on a road!
How is Nexton different than other communities in the region?
Derek: I've worked for companies that had a vision and no resources to execute. And some that had no vision and plenty of resources. This was the first opportunity to work for a company that had both. Nexton will leave a lasting legacy. It's a project I can bring my children back to and be proud of what we put on the ground. It's a real community. It's one of the reasons that I took the job.
Another way I think Nexton stands out is through our extraordinary commitment to the design side of things. We built a to-scale model to see what Nexton would look like before we ever moved a tree, and then tweaked it until we knew we had something spectacular. And we go out of our way to do things like keep trees and preserve the resources we already have. We have a level of detail on the parks and trails that are second to none in the Charleston market. It all works together to make Nexton a better place to live and work.
Ed: Every day I see the Nexton team doing things the right way. We're setting the bar higher than anyone else in the area. And that's because there is a lot of passion in this group. We're building a community to be proud of.
What about Nexton would people be surprised to know?
Derek: There's so much. The trees come from our own tree farm - we've transplanted nearly 900. And we design around trees that we know will bring character to the community. The natural environment of the Lowcountry is second to none, and we're preserving as much of that atmosphere as we can.
We're also big on sustainable design. Every street light in this community is LED. The Nexton Office building is LEED gold certified and nearly everyone in our department is LEED accredited. The MWV office has a Green Globes certification. And when we demo'd the old MWV buildings we went through a number of steps to recycle as much as possible. We also use Evotherm, a low-temperature, low emission asphalt, that is much more environmentally-friendly than the standard.
Ed: I also think people would be surprised at the level of detail that has gone into the front-end design of Nexton. Everything, down to position of windows, to the view from one end of a street to another, has been thought out. When you look at conceptual photos from years ago, and then you look at what we've built so far, it's spot on. And it's all intentional. You may not notice these details in your day-to-day at Nexton, but when you're here things will just feel better. It's the culmination of all the years of planning that makes it feel that way.
In case you missed them, there's still time to catch up with the rest . . .
Joe Barnes, Nexton's Director of Design
Brent Gibadlo, Project Manager
John Grab. Vice President of Real Estate Development
Cassie Cataline, Director of Marketing
Roger Wood, Town Architect
Mike Brunetti, Director Real Estate Development