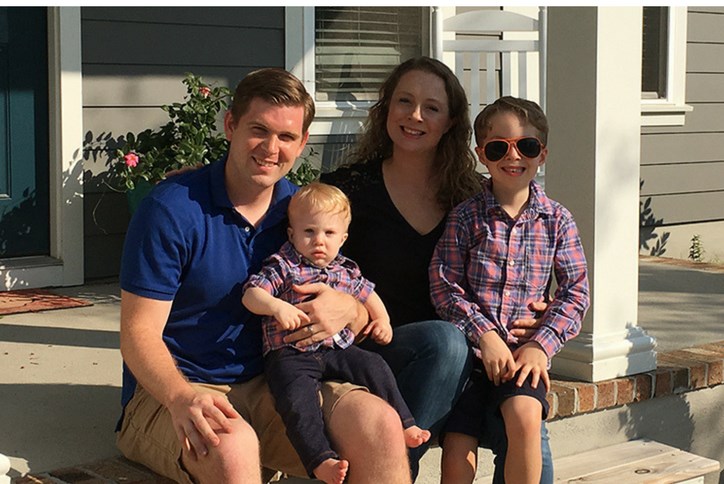 Meet the neighbors: The Cokins Family
Every day at Nexton we're building homes, wer'e building parks and trails, and we'll soon be building shops and restaurants. But it's our residents who are truly building the community.
Today nearly 130 families call Nexton home. Who better to tell potential residents about life here than the folks who can speak first hand? That's why we've decided to spotlight our residents each month here on the blog, where they'll be sharing a little bit about who they are and what brought them to Nexton. So without further ado, we'd like you to Meet the Neighbors: the Cokins Family!
---
What made you decide to make Nexton home for your family?
We loved the idea of a neighborhood where our kids could walk to school, where there are so many places to play and where we can hop on our bike to for a quick trip to the grocery store (Harris Teeter). I am also even more spoiled because I work within the Nexton Community as well!
What made you choose your builder and home design?
We chose the Primrose floor plan by Pulte. Part of the reason why we went with Pulte is because we really liked the friendly sales people in the model home. But Pulte is an established builder in the Lowcountry, so we knew we were going to get a great product. The Primrose floorplan had all of the big things we we're looking for in our house.
What feature of your home makes you the most happy?
The open living room and kitchen are the best feature. It is great for use to be able to cook dinner while the kids are at the counter coloring or eating (they are ALWAYS eating).
Tell me about your favorite park at Nexton?
Long Meadow Park is my favorite. I love all of the hammocks they make a great pit stop on the way to our mailbox.
What event has been most memorable so far?
Last year the Cocoa Cup was awesome!
Favorite Summerville restaurant?
Oscars is our favorite restaurant. Lunch, dinner, drinks all are great!
What is your favorite thing to do in Summerville?
I love to go to the Farmers Market. But Tom would say walking around Lowes haha. Third Thursdays are also a fun time. We try to make those when we can!
Where did you last call home?
We lived right down the road in Goose Creek, but before that it was Cincinnati.
Fun fact
A family member used to own

Cokins

Beer, which was distributed for quite a while in the Mid-West. We were recently given one of the original

Cokins

Beer bottles, full of old beer.
Thanks, Cokins!
If you are considering moving to South Carolina, check out our homes for sale in Summerville, SC.