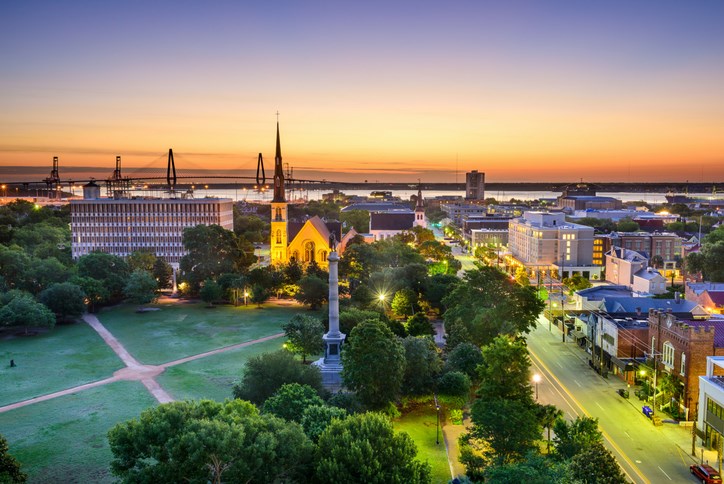 The rich history of Charleston
Culture and history in the Charleston region run deep and true. Home to a vibrant art scene, innumerable regional festivals, beautifully preserved architecture, pristine plantations, weekly farmers markets, and rich history, the Holy City (dubbed so for its numerous historic churches) provides an abundance of options to soak up culture and marvel in the preserved history of our great state.
Throw a stone in historic downtown Charleston and you'll hit a house with a past that had a hand in what we now know as Charleston today. To name a few…the beautiful Calhoun mansion (1876) - Charleston's largest private home and museum; the Edmondston-Alston House (1825) where the owners witnessed the start of the Civil War at Fort Sumter, and even provided shelter to Robert E Lee one night; the Nathaniel Russell House (1808) recognized as one of America's most important Neoclassical houses and built by a wealthy shipping merchant; the Aiken-Rhett House (1820) this house remained in the same family for 142 years before being sold to the Charleston museum and reopening as a museum in 1975; the Heyward-Washington House (1772) this Georgian-style home belonged to Thomas J Heyward, one of the 4 original signers of the Declaration of independence. Truly, you could build an entire day around historic homes in Charleston.
Among the most well-known landmarks in Charleston is seen from the battery Fort Sumter where the first shots of the Civil War were fired. Tours of the National monument are available by boat daily.
Another great source to absorb some of Charleston's war-time history is Patriots Point Naval & Maritime Museum. Explore a real submarine, the USS Clamagore, built in 1945 for WWII and decommissioned in 1975. In 1981, the sub was docked at Patriots Point as a museum. Just next to it, the aircraft carrier USS Yorktown can provide hours of education and exploration, with several different tours daily. It also serves as a venue for special events like the annual Charleston New Years Eve party.
Living history is everywhere in Charleston, from its antebellum mansions and famous plantations to its national landmarks and cobblestone streets.
If you're visiting Nexton from out of town soon, make time to take a walk and explore Charleston, South Carolina's oldest town. And let us know how we can help you make the Lowcountry home.