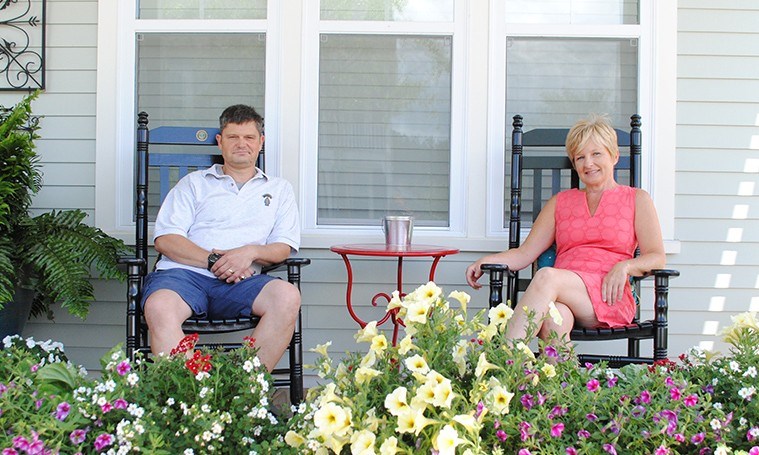 Meet the Neighbors: The Reinhardts!
Every day at Nexton we're building homes, we're building parks and trails, and we'll soon be building shops and restaurants. But it's our residents who are truly building the community.
Today hundreds of families call Nexton home! Who better to tell potential residents about life here than the folks who can speak first hand? That's why we've decided to spotlight our residents here, where they'll be sharing a little bit about who they are and what brought them to Nexton. So without further ado, we'd like you to Meet the Neighbors: the Reinhardts!

What made you decide to make Nexton home for your family?
We looked at many neighborhoods in different areas throughout Charleston and Summerville but the location of Nexton appealed to us the most. We were also drawn in by the beautiful landscaping and the walking paths in and around the community.
What made you choose your builder and home design?
We sold our old home in a week so we didn't have time to pick a builder and build a home. It ended up working out perfectly for us because they had a John Wieland spec home for sale and we fell in love with it as soon as we walked in the front door. The finishes were done beautifully and there isn't anything we want to change...which is a miracle!
What feature of your home makes you the most happy?
The one area we love equally is our front porch. We sit out there quite often and love to talk with everyone who walks by.
Tell me about your favorite park at Nexton?
All the parks are beautiful but the area I love the most in the community is the pool.
What event has been most memorable so far?
The oyster roast was a lot of fun. It was great to chat with neighbors and meet new ones!
What event are you most looking forward to?
Memorial Day Party at the pool and the next Wine Down Wednesday.
Favorite Summerville shop?
I love Marigolds (boutique) and Garth loves Lowe's...it's his second home!
What is your favorite thing to do in Summerville?
I love antique shopping and Garth...Lowe's.
Where did you last call home?
Our last home was in Vermont. We've lived many places throughout the US but the South truly feels like home.
Let's hear a fun fact about your family.
We're great badminton players!
Thanks, Kristine and Garth! If you are considering moving to South Carolina, check out our homes for sale in Summerville, SC.