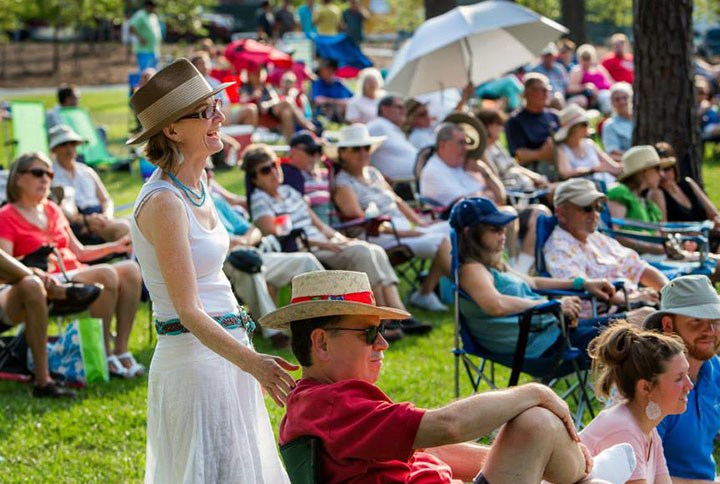 Piccolo Spoleto at Nexton: Your Qs, Our As
We're gearing up for the 4th annual Piccolo Spoleto at Nexton, and cannot wait to enjoy a joyful evening with good food, great music, and a few thousand of the Lowcountry's finest. Below, a bit of history on the festival (worth the read, we promise!) and some other practicalities about Saturday's event.
So, what is Spoleto?
We're so glad you asked! It's a fascinating story.
Spoleto Festival's history spans more than 50 years. In 1958 Pulitzer-Prize willing composer Gian Carlo Menotti founded the Festival of Two Worlds, dedicated to celebrating operate, music, and drama in Spoleto, Italy. He sought to establish an American counterpart to the festival, finding Charleston's charm and wealth of theaters, churches, and performance spaces an ideal setting. Menotti and collaborators were able to capture the spirit of Spoleto, Italy, through the Spoleto Festival– in a locale intimate enough to captivate the city, yet cosmopolitan enough to provide a backdrop for performers from around the globe. 
The 17-day spring event showcases established and emerging artists in opera, theater, dance, and music; hosts over 150 performances; and sells more than 60,000 tickets each year.
It's an economic win for Charleston, too: in 2016, the College of Charleston School of Business reported that the festival generates about $42 million in economic activity each year.

An internationally recognized performing arts festival, Spoleto Festival USA has established Charleston as an endearing cultural hub.
What about Piccolo Spoleto?
Piccolo Spoleto is the hub of Spoleto Festival USA that highlights local, regional up-and-coming artists.
Tell me about the headliner of this year's Piccolo Spoleto at Nexton – Sammy Miller and the Congregation.
"Joyful jazz" best describes the music of Grammy-nominated drummer, singer and bandleader Sammy Miller and his ensemble, the Congregation. Their aim? To create music that feels good. Entertains. Uplifts. Sammy's an LA native with a master's from The Juilliard School who has brought together a troupe of equally accomplished musicians (who, we must note, have worked with legends such as Wynton Marsalis, Lady Gaga and Queen Latifah). Together, they craft jazz that just feels good.
What can we expect of the opening act – Empire Strikes Brass?
You know a band is going to be good when their name is a clever pun! Empire Strikes Brass is an Asheville-based brass band with a globe-spanning fusion of Old School Funk, Ska, Southern Rock, Alt Country, Hip Hop, Boogaloo, and New Orleans Jazz. You know, all the can't-help-but-tap-your-toes-and-feel-it-in-your-soul stuff. Expect powerful horns, face-melting guitar solos, and lush vocal harmonies. Is it Saturday yet?
How much does the concert cost?
It's free! Really! Bring a few bucks to enjoy bites from Damiano's Pizza, Braised in the South, Semilla, Gelato Moto, Bottleneck Coffee Truck and/or Miracle's Tasty Express. Yum! We also recommend a cooler full of ice and your favorite beverages.
What about rain?
The show will go on, rain or shine.
Is there seating? Can I reserve seats?
No seating at Brown Family Park. Bring chairs, blankets, and whatever you need for a cozy, joyful evening (being the Lowcountry, you'll want to pack bring bug spray and sunscreen, too).
When do doors open? Where is will-call?
The concert starts at 5pm, but the park will open at 3:30pm. Come out early and get the best spot.
We'll have a big green Nexton tent near the main entrance of Brown Family Park. Come see us first to get your tickets.
Kid-friendly? Dog-friendly?
Yes and yes, assuming neither bites.
What's the address?
Put 201 Sigma Drive, Summerville in your GPS to reach the parking area. Follow the signage and crowds from there.
Where do I park?
From I-26 take Nexton Parkway (Exit 197B), turn right onto Sigma Drive and follow the signs to event parking. Parking is limited and first-come, first-served - so transit or car-pooling with friends is smart and encouraged.
Ok what else?
Have fun. Eat great food. Dance a lot. You got this.