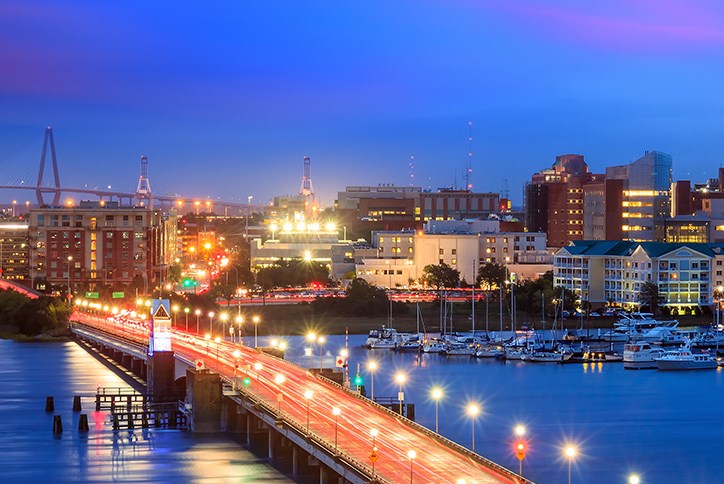 Diverse Industries Finding Success Throughout Charleston
When you think "Lowcountry" what comes to mind? Likely heaping plates of Shrimp and Grits, hot biscuits sandwiches and oysters all served up with a generous serving of southern hospitality, right? You're not wrong. The culinary scene is certainly hopping—and we're proud of it.

But don't think for a second that's all we have to offer.


With a thriving landscape that has landed Charleston as the #4 spot for "biggest boomtowns in America", our little slice of Holy City is home for industries that span several skill sets, talents and services—providing professional opportunities throughout the Charleston area that are just as hot as the biscuits. 
Automotive and aircraft in CHS
Throwing their hat in the game in 2018, Mercedes Benz joined major companies such as Boeing and Volvo to set the bar for automotive and aerospace companies looking to make Charleston a homebase. In addition to adding thousands (upon thousands) of jobs to the local workforce, these companies also add financial investments to the economy—by the hundreds of millions.


This isn't a new trend. Instead, it's 20+ years in the making, as SC's automotive industry has quadrupled in size over the last two decades. It was right around the beginning of the SC auto boom that born and raised businessman, Tommy Baker opened his first dealership in 1988. Since then his business has grown to unparalleled success here in the Lowcountry—and not surprisingly, they'll also be getting in on a piece of Nexton success with their expansion into a 28,600 sf showroom, as part of their exclusive Mercedes-Benz Sprinter partnership.
Healthcare and medical in the Lowcountry
As the trauma and teaching hospital in South Carolina, MUSC provides both education, experience and employment to those in healthcare-focused positions. And while MUSC alone provides over 13,000 opportunities—from medical assistant to nurse to lab tech to surgeon—it isn't the only medical facility to choose from. Taking up the 2nd and 3rd spots for Largest Private Sector Employers, Roper St. Francis Healthcare and Trident Health System employ another almost 10,000 people combined. 


And lucky for us, some of the finest medical professionals will be front and center, providing health care services at Nexton. With the recent announcement of the MUSC Health Community Hospital, residents are thrilled to have cutting-edge care at their doorstep. Interestingly, an "estimated 29 percent of MUSC's adult inpatients originate from the Berkeley County area – North Charleston, Summerville and Moncks Corner"—making the Nexton location a medical community no-brainer.
We're not the only ones that agree. In late 2019, Roper St. Francis opened their $117 million private hospital in Berkeley Country and Palmetto Primary Care Physicians have had offices in Nexton since 2015.


One thing's for sure: no matter where you are in Charleston, you're in good hands.
A new hub for high-tech
According to Forbes, 2.1% of the Charleston workforce is contributed to High Tech Employment—and we suspect that number will only continue to rise. Growing at exciting rates are the number of software, IT, e-commerce and solar companies (to name a few) opening throughout Charleston. Trailblazing the way for the newer guys, companies such as Blackbaud, BenefitFocus, and SAIC have proven track records for success.


In fact, Charleston has been recognized as the top STEM (Science, Tech, Engineering and Math) city in South Carolina by data scientists analyzing three specific prerequisites:
The highest proportion of residents in STEM-based careers;

The number of high schools, colleges and graduate schools with the best STEM programs in each state;

The cities with the highest rate of diversity in STEM programs/ positions.


And Charleston won by a landslide.  
Hospitality in the Holy City
And yes, we would be remiss not to mention hospitality—and more specifically, tourism—for industries making their mark on Charleston, SC. From going out to eat to beach vacation rentals—and every dolphin, carriage, ghost, and history tour in between—if there's something tourists want to do on vacation, Charleston needs to fill the never-ending positions to make it happen.
Hands-on training makes it happen
Perhaps what makes South Carolina—and Charleston in particular—so extraordinary is the unprecedented number of low-cost to free skills training accessible throughout the area. With 20+ area schools producing driven talent year after year, Charleston is nurturing future innovation and success from the ground up.


While some of these industries set up shop in downtown Charleston, utilizing small offices for their not-so-small endeavors, others need expansive grounds for their ever-growing operations. From West Ashley to North Charleston and Mount Pleasant to Summerville, we are experiencing a professional boom supported by the growing need to fill essential roles at major companies. And Nexton is right in the middle of it all. Offering accessibility, convenience, and location for both companies to build on and employees to live in, the Nexton community is quickly becoming the next go-to hub for business expansion in the Charleston area.


Looking to start or move your company to enjoy everything Charleston has to offer? Consider Nexton the perfect place to break ground or grow your business.