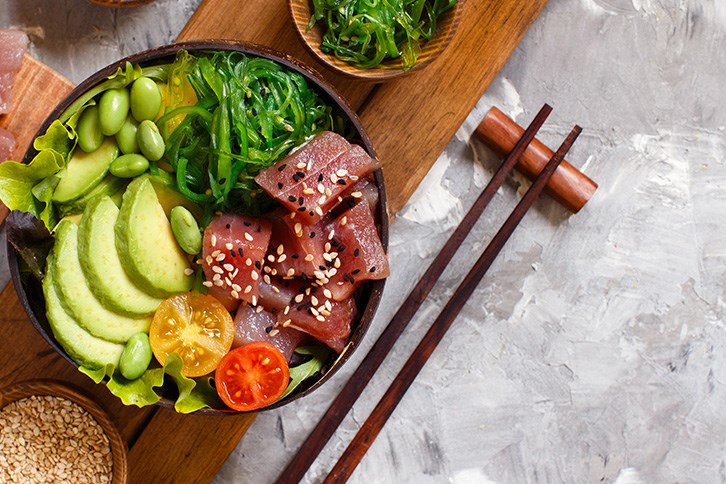 Eat Well at Nexton After the Cocoa Cup (and all the time, actually)
Among the thousands pounding the pavement on December 19 for the seventh annual Cocoa Cup? Or maybe you're just always on the lookout for a body-fueling meal. Either way, you've come to the right place. We scoured menus, did the "tough" taste-testing work (best job ever!), and rounded up the healthiest options at all of Nexton's fantabulous eateries. And just to keep things balanced, we're also suggesting a "Treat Yourself" meal for each restaurant. Because what's life without a little indulgence now and then? You deserve it, especially after a 5K! Dive in below!
 
Bad Daddy's Burger Bar –
Keep it healthy: Stella's Greek Salad
A healthy portion of grilled chicken breast served with tomato, red onion, kalamata olives, cucumbers, feta, radish, pepperoncini peppers, and chickpeas. Tossed with Greek lemon oregano vinaigrette. Dressing on the side. 
Treat yourself: Bacon Cheeseburger on Steroids 
Bacon lovers, this one's for you. Take your standard Bad Daddy's Burger (already a knock-out) and add three slices of jalapeño bacon, three pieces of applewood smoked bacon, housemade bacon mayo and your typical LTO. 
__
BkedShop -
Keep it healthy: Chances are, you don't go to BkedShop to get a healthy snack. But if you're craving something sweet served with minimal guilt (and you just ran a 5K- no shame needed!)...go for a vegan donut or apple-filled fritter. 
Treat yourself: Whatever's fresh and carb-a-licious.
You can't go wrong at BkedShop. 
__
Carolina Ale House -
Keep it healthy: Roasted Salmon
Nexton's OG eatery, and we've tasted just about everything on the menu (2 or 3 times!). For a healthful plate, go for the roasted salmon, either as a salad or an entree. A local beer pairs perfectly! 
Treat yourself: Award-winning dry rub roasted wings!
Add a side of crispy fries for post-run perfection.

__
D'allesandro's pizza -
Keep it healthy: No, we aren't going to suggest you skip the pizza at Summerville's best pizza place. Instead, start with a side salad to fill your belly with fresh veggies, leaving just enough room for a slice or two of Public Educator. Bonus: a portion of the sale of this pizza is donated to neighborhood public schools!
Treat yourself: Buffalo Chicken Pizza
Olive oil & garlic base, mozzarella, buffalo chicken, blue cheese crumbles. All the most important food groups!
__
Ever Creamery -
Keep it healthy: Frozen yogurt
Frozen yogurt has fewer calories than traditional ice cream, as well as less saturated fat, and it's equally delicious! 
Treat yourself: Old-fashioned chocolate ice cream
Need we say more? 
__
Fuji Sushi - Poke Bowl
Keep it healthy: Poke Bowl
Your choice of salmon, tuna, or yellowtail mixed with oba sauce, edamame, mango, seaweed salad, avocado and masago on top of a bed of green salad and sushi rice sprinkled with fried scallion and sesame seeds. 
Treat yourself: Filet Mignon hibachi 
One of the best steak cuts prepared in true hibachi fashion. Delicious. 
__
Halls Chophouse -
Keep it healthy: The Vegan Experience. 
You won't find this on the menu, but it's a veggie-centric plate of Halls' finest that might just sway even the toughest meat-a-tarian. If you're super psyched for it, give them a call in advance so they know you're coming. Trust us, it's worth it.
Treat yourself: Steak, obviously. 
Prime beef shish kabobs, wet-aged filet mignon, dry-aged rib eye, bone-in strip...all the most flavorful you've ever experienced. Halls isn't voted one of the best steakhouses in America for nothing. 
__
Page's Okra Grill -
Keep it healthy: Grilled shrimp basket with cole slaw
These big, perfectly grilled shrimp are a beautiful pairing to the fresh and flavorful cole slaw. 
Treat yourself: Seafood platter
For when you just can't decide...get it all. Grilled lump & sweet blue crab cake, fried jumbo shrimp, and a fresh fried flounder fillet. Served with 1 side. Go all out and get the mac & cheese.
__
Poogan's Southern Kitchen -
Keep it healthy: Steak Salad
A light and delightful entree. Butcher's steak with romaine, portobello mushrooms, field peas, and cherry tomatoes. Sub the buttermilk dressing for something lighter, or just take it on the side and dip, dip, dip. 
Treat yourself: Famous Shrimp and Grits
Literally famous. You'll find these incredible classic on Top, Best, and #1 lists all over the country. Made with local shrimp, andouille sausage, sweet onions and peppers, and tasso gravy.
__
Refuel - 
Keep it healthy: Nuts and fruit, bottled water
Don't have time to stick around after the run? We get it. Thankfully, they're a new Refuel Market on Brighton Park Boulevard where you can fuel up on grab and go snacks. 
Treat yourself: Fried chicken and a milkshake
For something meatier (literally), they're fried chicken is beloved the region over. Pair it with a milkshake - there's a shaker machine on site!
__
Starbucks -
Keep it healthy: Egg & Cheese protein box and green tea
You know Starbucks for its caffeine and sweet, but don't discount it for a quick and health bite. Their egg and cheese protein box is just enough. A cold or hot green tea will get you hydrated and feeling great. 
Treat yourself: Salted Caramel Mocha Creme Frappuccino
Part caffeine boost, part dessert. It's a whopper of a drink - mocha sauce and toffeenut syrup with milk and ice, finished off with sweetened whipped cream, caramel sauce and a blend of turbinado sugar and sea salt for a sweet and salty celebration. Woah. 
__
Taco Boy -
Keep it healthy: Taco Boy Salad
A salad so good they put their name on it. Mixed greens, fire-roasted bell pepper, roasted corn, salsa cruda, avocado, queso fresco & crispy corn tortilla strips. Choose your own protein! We suggest southwest shrimp. 
Treat yourself: Chicken Enchiladas
Bring on the sauce. Another choose-your-own protein adventure, topped with cheese and salsa cruda.  It's ::chef's kiss::
__
Tropical Smoothie -
Keep it healthy: Baja Chicken Bowl with kale and apple slaw, Island Green Smoothie
The Baja Chicken Bowl skips the carb-y wrap for a bed of lettuce and rice and included smashed avocado, red onion, cheddar, and roasted salsa. Pair with an island green smoothie (less sugar, more veggies) for an extra boost.
Treat yourself: Chicken bacon ranch wrap, Mocha Madness smoothie
Chicken, bacon, and ranch - an iconic trio. The mocha madness smoothie has coffee in addition to chocolate, cappuccino and non-fat yogurt. Skip the caffeine and ask for decaf, if ya want.  
__
Vicious Biscuit -
Keep it healthy: Oatmeal power bowl, keto bowl, or egg white omelet
Yes, the purveyor of biscuits the size of your head DOES have some great healthy options. In fact, we couldn't choose between these three! Each is a winner. Just like you, Cocoa Cup runner! 
Treat yourself: The Fat Boy biscuit
A buttermilk biscuit heaped crispy fried chicken breast, their signature pimento cheese, and the Vicious spicy honey drizzle. Take it slow. You got this. 
__
Wok N' Roll -
Keep it healthy: Steamed shrimp with broccoli
Basic, but also basically delicious. The shrimp is always perfect cooked and the broccoli green and fresh. 
Treat yourself: General Tso's 
Wok N' Roll has perfected this takeout-famous dish with an excellently balanced sauce.