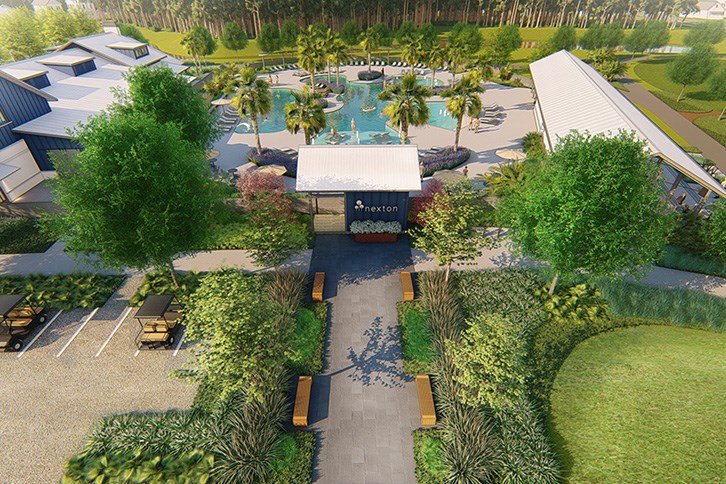 The Big Amenity Reveal: Midtown Club
This is the blog you've been waiting for. The cherry on top of an already vibrant new homes community. The centerpiece of Midtown, where our Healthy Living cornerstone shines bright and beautiful.
Below, we're delighted to share the hot-off-the-press details of the spectacular wellness center coming to Nexton. Spoiler alert: there's tennis, a huge pool with lap lanes, a yoga studio, a new WFH spot…and SO much more! Dig in!
A pool to please all
Let's start with the crowd-pleaser: the pool! The resort-style pool includes squirt jets for kids (and the adventurous adult) and chill, shady zones for adults seeking a more relaxing poolside experience. When it's time for a dip, you can work on your cannon ball jump or wade peacefully in via the beach-entry. Then float over to the lap lanes for a few backstrokes. In between, you'll find plenty of pool deck, resort style accessories, and cubbies for all your day-at-the-pool necessities.
Outdoors: Park, Playground, and Pavilion
You know we love a spacious green lawn, and this new outdoor space will borrow from what we've seen work best around Nexton: plenty of space for fun POA activities (glow golf, food trucks, outdoor movie nights!) but with its own twist. This time we're including a kettle fountain and plenty of benches for nighttime star gazing and daytime catch-ups. And of course, lots of lush, native plantings and trees.
Nearby, the newest Nexton playground is designed for a mix of ages, with a shady pavilion/picnic space that will allow parents to dodge the summer sun while keeping an eye on the kids. A large, grassy lawn allows for community soccer games and the annual holiday flag football event. Convenient bonus: dedicated restrooms with fob access will be open year-round!
Nexton Residential Association members will also be able to catch up over a match or two on lighted tennis courts, two lighted pickleball courts, and a half-court basketball court.
Inside: Fitness, Yoga, Cozy quiet spots
Yes, there's more! If you're seeking a change-of-WFH-scenery for a bit, visit our "Living Room," a quiet space powered by Home Telecom's GigaFi. In your off-hours, use this space to grab some coffee, meet with your think-tank neighbors for a carry out lunch-and-learn, or meet the girls for cards.
Or liven up your evenings with a BYO happy hour and game of pool with friends. Join Bunco, book clubs, or cooking classes and meet in the "Living Room."
Anniversary party or POA meeting? We have a place for that. The Flex room is just how it sounds – flexible! Bring in catering and let your private event spill onto the patio with gas fireplace, arrange a speakers' series, or set-up a banquet supper. Host a large fitness class. It's an accommodating space.  
For more day-to-day fitness needs, we'll also have a fitness room with dedicated cardio, circuit training equipment, and weight training equipment. And you won't have to worry about finding a sitter – the kids' play room is observable from the gym! Keep an eye on the littles AND get your workout in. We told you life here was convenient. By the way, the on-site yoga studio will be able to accommodate a handful of yogis, or even more on sunny days when the doors can be swung open for an open-air class.
It's all accessed from a gracious entry with dedicated golf cart parking and bike racks.
You can view renderings of the planned uses at Midtown club here.
That's it. For now. To make the Midtown Club your new neighbor, drop in, and explore the homes here – all full of Lowcountry style and up-to-the-minute technology.