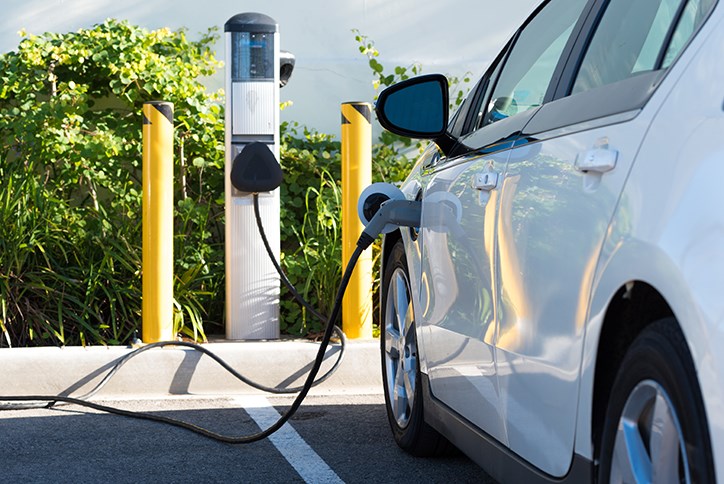 Electric Vehicles Spark Innovation at Nexton
You've seen them in the parking lots of a retail centers and office buildings, or perhaps taking up a parking space you thought you'd cleverly beat other drivers to. More frequently, you'll find them plugged into a vehicle that resembles any other car or SUV on the road, with emblems from familiar big auto brands like Volvo and Mercedes. (And the occasional eye-catching Tesla, of course.)
Yes, we're talking about electric vehicle charging stations. As recently as a decade ago, it was challenging to find one in many regions, forcing EV drivers to carefully plan trips around places they could "fuel" up their vehicles. So, it felt a little bit radical to install one at Nexton's first office building back in 2014. Would anyone use it? Do we really need to install more than one? Is this a passing trend or a shift in the automotive industry? We would soon learn: this was the beginning of a major shift for the world - and the Charleston-region in particular. 
As the world inches toward a sustainable, fuel-efficient future, electric vehicles seem destined to be an essential part of our daily lives. Electric vehicles (also known as EVs) have a significantly smaller carbon footprint than gasoline cars, and they've become increasingly powerful and affordable. No longer a novelty, EVs are here to stay. 
Electric Cars Spark a Change
In the past few years, announcements concerning goals to "go electric" went from a dribble to a deluge, with our neighbors at Volvo announcing an intent to put one million hybrid or electric vehicles on the road by the end of 2025, as well as become an EV-only brand by 2030.
Fun fact: While all the buzz over electric cars seems recent, EVs were dreamt up in the 1890s and even date back before gasoline powered vehicles. It was Henry Ford's Model T and assembly line that made gasoline powered vehicles affordable to the masses, squashing efforts to create a consumer-accessible electric vehicle.
Now, EVs are rising in popularity once more due to gas shortages, environmental concerns, and improvements to EV technology. Electric cars emit far fewer greenhouse gases and air pollutants. And they are more efficient than ever before with longer battery lives, quicker charging (a full battery charge takes about half an hour), and minimal upkeep costs. Today, electric cars can travel between 100 and 300 miles. For comparison, the average person drives around 37 miles in a day. 
They're also increasingly affordable. In 2019, the median electric car cost about $55,000, compared to their gasoline counterparts at $36,000. Today, there are several EVs on the market for under $35,000. Manufacturing improvements, increasing market competition, and consumer demand are causing prices to drop each year. Upfront affordability, federal and state tax credits, and low maintenance costs are making electric vehicles attractive to those who once thought they were out of reach. 
Powering the Lowcountry 
Volvo stomped the gas on the Lowcountry's manufacturing industry in 2015 when it broke ground on its first US plant in Berkeley County, just 15 minutes from Nexton. 
In June of this year, they solidified their position as a leader in electric vehicles - and the Lowcountry's role - by announcing that the Ridgeville plant would become the automaker's first all-electric car assembly plant. "Charleston will play a very important role in our electrification strategy," CEO Hakan Samuelsson said. The transition to all-EV is expected to begin in 2022 when Volvo adds production of a new Polestar 3 electric crossover and eventually a next-generation electric XC90.
Volvo Car University is a core part of the company's shift towards an all-electric lineup by 2030. The university is located on the main campus in Ridgeville and, in collaboration with Yale School of Management, will become a central location for technicians and retailers alike to learn about emerging electric vehicle technologies.
Charleston's other automotive behemoth, Mercedes Benz Vans, is also preparing for the introduction of 10 new EVs by the end of 2022, and recently debuted an electrified version of their classic, ubiquitous Sprinter van. This is likely to have significant, positive environmental impacts: electric-powered transport and work vehicles amplify the impact of EV technology well beyond consumers. Even more impressive, their van plants will all run on renewable resources by 2022. 
Future-proofing Nexton
So back to those charging stations. Should we have installed more EV charging stations at Nexton's first office building? We'll let you decide. (For the record: we installed 2.)
Thankfully, Nexton is nothing if not forward-thinking, so we've since continued to establish the community as EV-friendly. Today, you'll find several different places on the Nexton campus to charge your electric car. Plus, our homebuilders offer charging ports for electric cars in all new home garages. We're also encouraging our neighborhood apartment communities and office buildings to install charging stations which are fully accessible to all residents.
"Volvo's announcement makes it clear that the world is ready for electric vehicles. Nexton, too, is ready - and excited - to continue ensuring our community is future-proof," Brent Gibadlo, Vice President of Operations at Nexton, said. 
The future is now at Nexton. Join us!