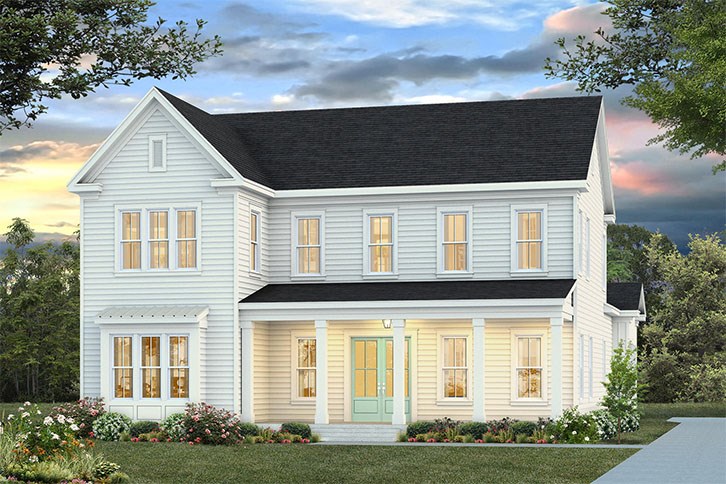 Grand-New Homes: Introducing semi-customizable homes by Homes by Dickerson
For some families, bigger is better. Introducing four new homes designed with a full-size family in mind. In Homes by Dickerson's newest floorplans, even the 6+ person family will have room to spread out – and dive in. Hint: start Pinning pools now!
Great homes - out of the box
First, we need to tell you a little about Homes by Dickerson. One of our newest builders, they entered the Charleston market by way of the Raleigh region with a splash, debuting in Brighton Park Village to the delight of many new homeowners. Typically, their homes come standard with a lot of what other builders consider upgrades.
In the new collection in particular, you'll find the base price includes luxuries like 10-foot ceilings on the first floor, interior fireplaces, hardwoods in the master bedroom, frameless shower glass, upgraded bathroom tile, and even screened-in porches. Take a peek inside a Homes by Dickerson closet. Custom wood shelving – always. You'll also get to pick and choose your lighting instead of selecting a single package.
These whoppers are customizable, too
The Drayton tops the list as Midtown's biggest (ever) home plan, clocking in at 3,565 square feet. It boasts 5 true bedrooms PLUS an enormous rec room, PLUS a loft. On the (slightly) smaller end, the Middleton is 3,000 square feet and has 4 bedrooms and a dining room that could act as a study, if you so choose. In between are the equally liveable Azalea and Hampton plans.
We'll pause while you peruse.
Gorgeous, right? Here's the kicker: if these plans don't totally float your boat as-is, Homes by Dickerson will customize them for you. Move this wall a smidgen, expand that island by a foot or two, add some doors here, and a soaker tub here and bam: your perfect home.
You can get creative, too. Add a custom dog nook under the stairs, enhance your screened-in porch with a see-through fireplace, convert a massive walk-in closet into an office space - complete with a window and custom-built desk. Or bring your favorite over-the-top inspiration rooms from Pinterest and ask them to make it happen. Chances are, they'll be excited by the challenge.
But don't let the options overwhelm. You'll work with Jonathan Bailey, Homes by Dickerson Division President, to develop the floorplan and house design you're dreaming of.  Then you'll work with a professional designer to make the design come to life with colors, selections, and details inside and out. Speaking of outside…
A grand home needs a grand yard
Does that "Dream Home" Pinterest board include an incredible backyard with a sparkling blue pool? You'll want to save the link. Many of the homesites in this collection can accommodate a lush backyard oasis. Pools, spas, and all manner of outdoor accoutrements can be added. Design the perfect entertainment area – complete with outdoor kitchen, pizza oven, sink, you name it – or a private sanctuary where you can decompress and relax after a productive day. 
Many of the homesites also back up to wooded areas or ponds, too, making them ideal for those seeking more privacy.
Sold! How do I get started?
So glad you asked. The process for building a semi-custom home with Homes by Dickerson starts with their outstanding sales team. Drop into the model in Midtown to pin down a floorplan, then formulate a list of needs and wants for your dream home. Ask the sales agent about available lots, and place a hold on the one you love.
Over two weeks, you'll work with the Homes by Dickerson team to make design and floorplan customizations at a price that works in your budget. And it's okay if you're a little fickle: you'll also have the opportunity to submit design changes later on if you discover a new feature you want to incorporate into your new home.
Time from contract to close (including all the fun design time!) is about 11 months, so plan your move accordingly. You'll also find that our choicest homesites go fast, so start your search now. We can't wait to welcome you home!