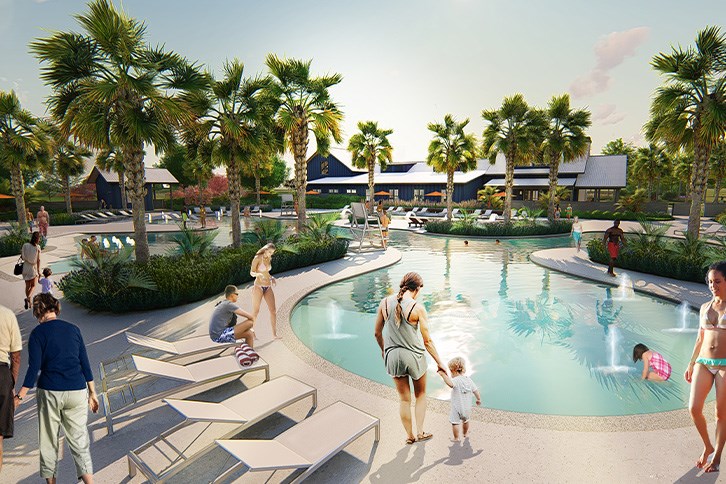 Midtown Club Opening this Summer: Get the 411
We can almost feel the cool of the pool on a steamy Lowcountry day. Hear the clacks of pickleballs. Sway to music on the lawn. Y'all, construction of Midtown Club is almost complete! From afar (please) you can see the curves and dips in the pool taking shape and the palm trees rooting and growing tall. The lights and fences up for the courts.
This summer, Midtown, Brighton Park Village, and Del Webb homeowners will be pros at navigating the club. The kiddos will be skilled at the creative climbing structure. Maybe a proposal will take place at the zen fountain. And we will all be making Instagram stories and Facebook memories.
We know, we know – you're ready for it already! In addition to all the always-there-fun (start here for a refresher on all things Midtown Club), here's what's on deck:
Workin' on your fitness

Tennis lovers: rejoice. We'll be breaking in the courts with an open house with Play Tennis Academy. They will be offering tennis lessons and a kid's summer camp. Plus, pickle ball lessons so you can beef up your skills before The Pickle Bar opens in 2023.
Have you enjoyed yoga with Warren in Brighton Park Village? There's more of his popular classes to come at Midtown Club in the brand-new yoga studio, complete with a celebratory first class complete with some sweet Nexton swag (in other words: hold on buying that new yoga mat for just a bit)!
You can also take your workout to the pool – we're working on a partnership with a very local Barre studio to make a zumba-meets-barre-meets-pool-day thing happen.
Of course, the pool's lap lanes will always be there for when you need to get your cardio in!
Learning and living
The "Living Room" will be a cozy quiet spot by day, and a place for gathering and events, too. Perhaps a wine & cheese evening with our favorite community wine purveyor? A painting class paired with a coffee tasting?
We're also seeking a hot-off-the-press book by a local author for a book signing. Know a great one? Shoot us a message!
Let's eat 
Food truck owners love Nexton, y'all! We're planning to keep the good food flowing starting with a food truck rodeo with some community favorites. This will put Midtown Club's event lawn to good use, and the littles can keep themselves occupied with the inventive play structure while you nosh on some great eats under shady trees.  Bring lawn chairs and a picnic blanket just in case you don't luck out with one of the many benches.
This is just the beginning of what's sure to be your new favorite hub neighborly fun. Have we sparked an idea for how we can make the Midtown Club even better for you and yours? Shoot us a message at poa@livenexton.com.
If you don't call Nexton home (yet), this may be the sign you've been waiting for. Drop in to see how our community is taking shape, and explore the homes while you're here – all full of Lowcountry style and up-to-the-minute technology.