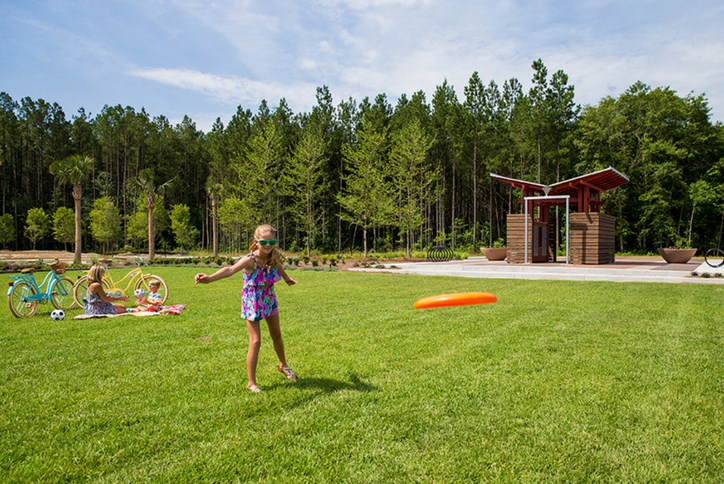 Parks and nature at Nexton
Nexton offers a standing invitation to get outside and move your body. The best places to do just that? Our many parks, each as unique as the next, all connected through a trail network that will eventually link the entire community. Next time you visit the Front Porch, take a look at our community map. All that green space? Parks, preserved wetlands, and nature paths. All told, it adds up to nearly half of Nexton. With so many parks so close to home, you feel as if you have a huge backyard that you don?t have to mow!
Besides offering ample opportunities to stay fit, our parks are also designed to bring neighbors together. Because the way we see it, community-mindedness is natural. It just needs a nice place to grow.
Tall Gee Woods was one of our first parks and immediately became the embodiment of that ?neighborly by nature? mentality. Tucked amongst some of the very first Brighton Park homes, the petite park does big work connecting neighbors. Tall trees and a fenced-in play/hang-out area (whichever suits your mood) offer a safe, shady spot for kids and parents to gather, and the alley surrounding the park is already well worn with bicycle tires.
Elbow Park is one of what we affectionately refer to as ?pocket parks? at Nexton. The park, located on Scholar Way, is the perfect size for a picnic, catch up with friends, or yard games.
Brighton Park is the namesake of our first neighborhood, and for good reason. The sprawling lawn and surrounding pathway offers ample opportunity for sports or relaxation. Brighton Park?s large pond attracts local fauna on the regular, so if you?re just looking for a tranquil place to drink your morning coffee and watch the egrets, ducks or geese, this is your spot.
Brown Family Park has been a regional draw since we dedicated it last year. It hosted Summerville?s very first Piccolo Spoleto event in 2015, an event that was such a good time we repeated this year! We?re gearing up to bring a second Oktoberfest to the park, and our third annual Cocoa Cup 5K will soon open for registration! These larger events have been a blast, but Brown family Park is also regularly host to bocce ball games, lunch-time walks, and family gatherings.
Long Meadow Park is the newest park addition to Nexton, and it just might be our favorite! In addition to a series of breezy hammocks perfect for lazy Saturday mornings or winding down the day, the park offers an expanse of green lawn. Take the kids out for an energy-burning run around after school, bring out some bocce balls for a friendly game, or lay out a blanket for a summer picnic. The options are endless!
To us, parks are more than just pretty places. They?re part of the spirit of Nexton, a place that?s more than just homes. Make plans to come see our homes and parks here in Summerville, SC for yourself!