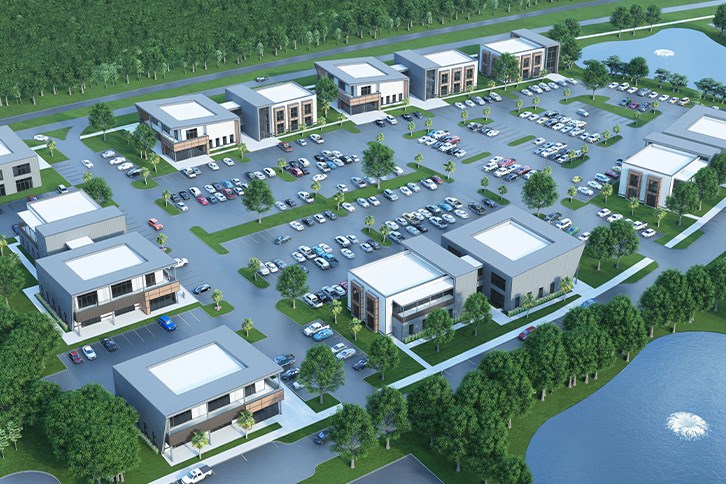 WELCOME, ATELIER DOWNTOWN NEXTON
Is your business or workplace located within Nexton? It might be soon.
More and more, businesses are catching on to the benefits of locating in Nexton. Whether you're shipping product, trying to catch a flight or just looking for a great lunch spot, a location in Nexton makes your employees' days a lot more efficient. Which makes them a lot more happy. And happier employees = better business.
So, what exactly makes a day better? For starters, a superb location just off I-26 equidistant to downtown Charleston and I-95. Lots of green space for important brain-boosting breaks within nature. Trails for a quick cardio workout or even a walking meeting. Proximity to great restaurants and time-saving services. Access to lightning fast internet speeds. 
If the stars align, they might just find they can walk to work, too. From apartments and townhomes to spacious single-family homes and semi-custom executive homes, Nexton has a diversity of home types to suit all family makeups. And have we mentioned Nexton was named 2022 Mixed-Use Community of the Year by the National Association of Homebuilders? 
Introducing Atelier Downtown Nexton
Meet the new guy in town. A fellow innovator, Atelier (pronounced A-tel-yay) Downtown Nexton is an office environment inspired by modern think tank spaces. Perched on 7.5 acres in the middle of Nexton, the campus-like setting will include multiple two-story buildings up to 18,000 square feet. 
What kind of business can we expect? Small entrepreneurs to larger commercial, medical and service organizations are going to find Atelier Downtown Nexton ideal. Common green spaces, trails within and linking to the rest of Nexton, and a thoughtful, modern design will appeal to business of all sizes. The campus will also feature ample parking for quick and convenient access.
Breaking ground later this year and opening in 2024, Atelier may just be your future workplace. 
Are you a business owner ready to make moves? For more information on available spaces, contact Peter Fennelly, Bridge Commercial at 843-425-0186.
See you on the trails.